*This post may contain affiliate links. If you make a purchase through a link, I may earn a small comission (at zero extra cost to you). You can read my policies and disclosures for more info.*
When it comes to being a mother, no priority is higher my list of things I want to be good at. On the other hand though, I often find myself at the end of my patience and feeling stretched too thin with my kids. Since I put my faith in Jesus, I wanted to write a post to encourage you (and me too) on the importance of mothers to God.
What does the bible say about how mother's should live and act?
What does the bible say about the importance of mothers?
What does the bible say about how mothers should strive to raise their children?
These are all questions that I hope to answer. I hope these answers encourage you in your motherhood journey like they do me!
What Does the Bible say about the Importance of Mothers to God?
JESUS LOVED HIS MOTHER
Let me start off by saying that Jesus must have really loved his mother. I say this because of the incident that occurred in John (2:1-11). 
Jesus was in Cana for a wedding celebration for some family friends. His mother was also in attendance. The bible states that up to this point Jesus had not made his ministry public yet, probably because he knew that doing so would trigger some pretty heavy things to come.
At the wedding party (I also love that he was at a party because this tells me that he enjoyed social events and was totally OK with relaxing and having a great time), the wine makers ran out of wine. 
Now in this culture running out of wine was a really big deal, and would bring shame on a family if discovered, because it meant that the family couldn't afford more wine to serve to their guests.
When she found out about the lack of wine, Mary went directly to Jesus and asks him to please take care of this problem. He then says to her "my hour has not yet come." She says nothing back to him, but turns to the servants and says, "whatever he says to you, do it."
Now she obviously was comfortable enough with Jesus that even though he implied to her that he was not ready to do public miracles yet, she went ahead and assumed he would anyway. Because he chose to do this public work even though it wouldn't have been his first choice of timing, I strongly believe that he must have loved her A LOT.
THE BIBLE SAYS MOTHERS ARE IMPORTANT TO GOD
I needed a headline, so I wrote that. But honestly, the Bible says MUCH MORE on mothers that just their importance. 
The picture the Bible paints of mothers is one of beauty, grace, and of their indispensability!
Proverbs 31:10-31 describes what a good woman looks like, and the picture is inspiring to say the least!
The basic quality of this mother that Proverbs talks about is that she fears the Lord, and all her other qualities stream from that. 
Proverbs Bible verses that talk about a good woman:
"the heart of her husband trusts in her, and he will have no lack of gain. (verse 11)
"She opens her hand to the poor
    and reaches out her hands to the needy." (Verse 20)
"She opens her mouth with wisdom,
    and the teaching of kindness is on her tongue." (Verse 26)
"Her children rise up and call her blessed;
    her husband also, and he praises her:
 "Many women have done excellently,
    but you surpass them all.'" (Verses 28-19)
I encourage you all about the Proverbs 31 woman in full! Here is a fantastic bible study on the Proverbs 31 mother!
Other places in the Bible speak well of women and mothers as well. 
There are too many times in my own life when I feel overwhelmed, inadequate, and quite frankly, like a bad mom altogether. Usually when I feel this way, one of two things is going on. Either I am not understanding my own worth and how much value I am truly providing for my kids, or I am trying to take on too much and not putting the needs of my family first- in essence, I am living an unbalanced picture of how the Bible says that I should living as a God fearing mother.
When I am spending time in the Bible and filling myself up with His truths, I am a much better mom. 
---
Related Posts You May Enjoy: 
How To Find Strength For The Hard Days Of Motherhood- One Simple Tip
8 Tips To Instantly Having More Patience With Your Kids
10 Things Happy Moms Do Before Their Kids Wake Up
How to Live With Anxiety- and Still be a Great Mom!
6 Reasons Why You are a Better Mom Than You Think
---
A Good Mom By Worldly Standards Vs. Biblical Standards
The standards for moms, and women in general are now, and have always been high. 
Heck, women have always been in charge of raising the kids (which as you know automatically requires you to wear ALL the hats- cook, mediator, police officer, parole agent, driver, personal clothing coordinator, nurse, cleaning lady…and the list goes on).
To matters more challenging,  today moms are also expected to work to climb the corporate ladder as well as raise children. 
In fact the message that you get a lot on social media is that YOU mom, are more important than other people in your life!
We are told to put ourselves first- even before our kids, and definitely before our husbands because "we can't take care of ourselves when we are not being taken care of, and our needs and wants are not being met. 
The world says that we can even choose to abort our kids if we don't want them. The world tells us that we can be whoever we want to be, and that self-care should be at the top of our list. 
But if you've ever indulged yourself as much as you want with anything at all, you've probably come to the point that the happiness fades, and it just isn't enough anymore. In essence, putting yourself first and foremost only makes you temporarily happy for a while. 
True happiness and fulfillment as a mom only comes when you are serving a higher power, and are putting yourself third, after God and your kids. 
On that path, you are not neglecting yourself, but you will thrive on the course that God has laid out for you as a mother. 
The world tells us that we are enough just the way we are.
The thing is…You are not enough the way you are. And you never will be. 
If you were enough just the way you were, Jesus would have died for nothing!   
The Proverbs 31 woman was only a wonderful mom because she feared the Lord FIRST, and took care of her family second!
It wasn't just that she did all the things for everyone and didn't drop from exhaustion. Her strength as a mother, the force that made her capable and strong, was God!
So take heart, dear mom. You are able to be just as good of a mother as she was. We all are. The bible makes it clear that fearing and loving the Lord is the first step to take on this path toward greatness in motherhood, and the rest will follow.
What The Bible Has To Say About Moms
The word "mother" is mentioned around 245 times in the bible (this count varies but this is the most conservative count estimated).
Below are some verses and passages that discuss motherhood in God's eyes:
Isaiah 66:13: "As one whom his mother comforts, so I will comfort you."

Isaiah 49:15: "Can a mother forget her nursing child? Can she feel no love for the child she has borne?"

Proverbs 31:25: "She is clothed with strength and dignity; she can laugh at the days to come."

Psalm 139:13-14: "For you formed my inward parts; you knitted me together in my mother's womb.I praise you, for I am fearfully and wonderfully made. Wonderful are your works; my soul knows it very well."

1 Peter 3:4: "You should be known for the beauty that comes from within, the unfading beauty of a gentle and quiet spirit, which is so precious to God."

Deuteronomy 4:9: "Only be careful, and watch yourselves closely so that you do not forget the things your eyes have seen or let them fade from your heart as long as you live. Teach them to your children and to their children after them."

Luke 2:51: "And his mother treasured up all these things in her heart."

Exodus 20:12: "Honor your father and your mother"

Leviticus 19:3: "Every one of you shall revere his mother and his father."

Psalms 22:9: "Yet you brought me safely from my mother's womb and led me to trust you at my mother's breast."

Matthew 19:19: "Honor your father and mother. Love your neighbor as yourself."

Deuteronomy 27:16: "Cursed is anyone who dishonors father or mother.' And all the people will reply, 'Amen.'"

Psalms 27:10: "Even if my father and mother abandon me, the Lord will hold me close."

Proverbs 20:20: "If you insult your father or mother, your light will be snuffed out in total darkness.
Want these verses in a convenient print to remind yourself of? Click here!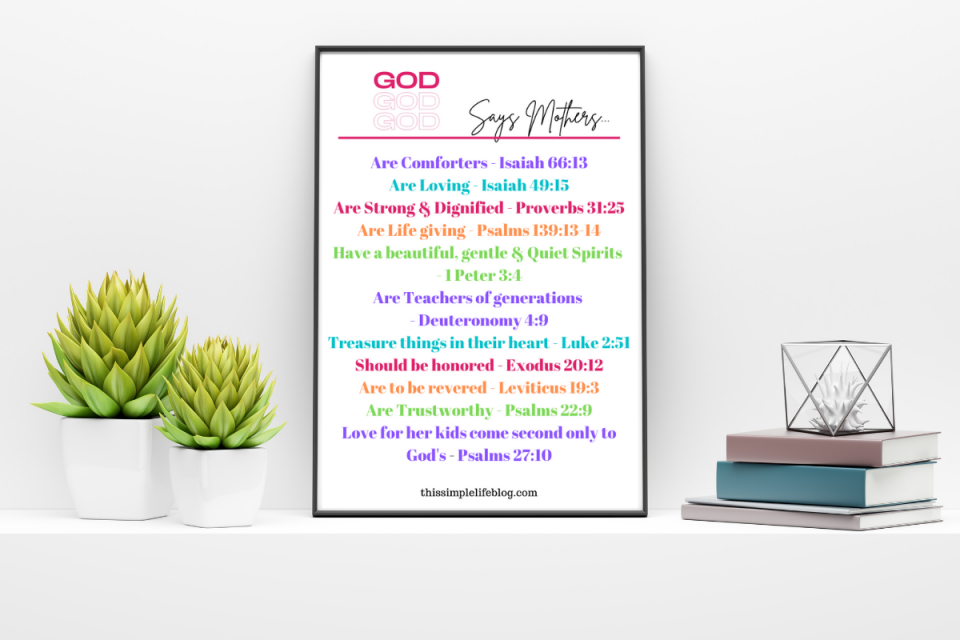 There are many more, but these verses paint a beautiful picture of who a mother is to God. 
She is worthy of being cherished, loved, respected, and honored. She is someone who will love you until the end and never give up on her child. 
She treasures things in her heart and she takes strength in the Lord.
I hope that this post has encouraged you to look to the Lord for your strength to be a great mom.
God says that you are cherished, dear mom, and that your work is important.
Please follow and share this amazing article!