*This post may contain affiliate links. If you make a purchase through a link, I may earn a small comission (at zero extra cost to you). You can read my policies and disclosures for more info.*
While there are a lot of workouts and exercises to do when you're pregnant, my favorite by far is yoga. Plain and simple, practicing prenatal yoga (even intermittently) will make for a more fit and calm pregnancy.
The versatility and benefits of prenatal yoga
I have practiced yoga for years off and on. What I love most about doing yoga is that it is versatile – you can be calmed and relaxed, while stretching your body; or you can get your heart rate up while building muscle. 
For me, yoga has been a very calming way for me to get in my deep stretches, while building core strength to help with some post baby problems as well.
Finding the right prenatal yoga practice is essential
There are lots of free videos out there to find for a quick yoga practice. But, to be honest, you'll get the most benefit out of a program that you purchase. Generally, paid programs offer a greater level of knowledge and education behind their videos or classes.
As with any exercise program, you need to check with your physician before starting anything new – especially if you're pregnant.
As long as they give you the OK, some next things to think about are:
What are my goals for getting in shape?
How intense do I want my practice to be?
Am I OK with practicing online, or would I rather attend an in-person class?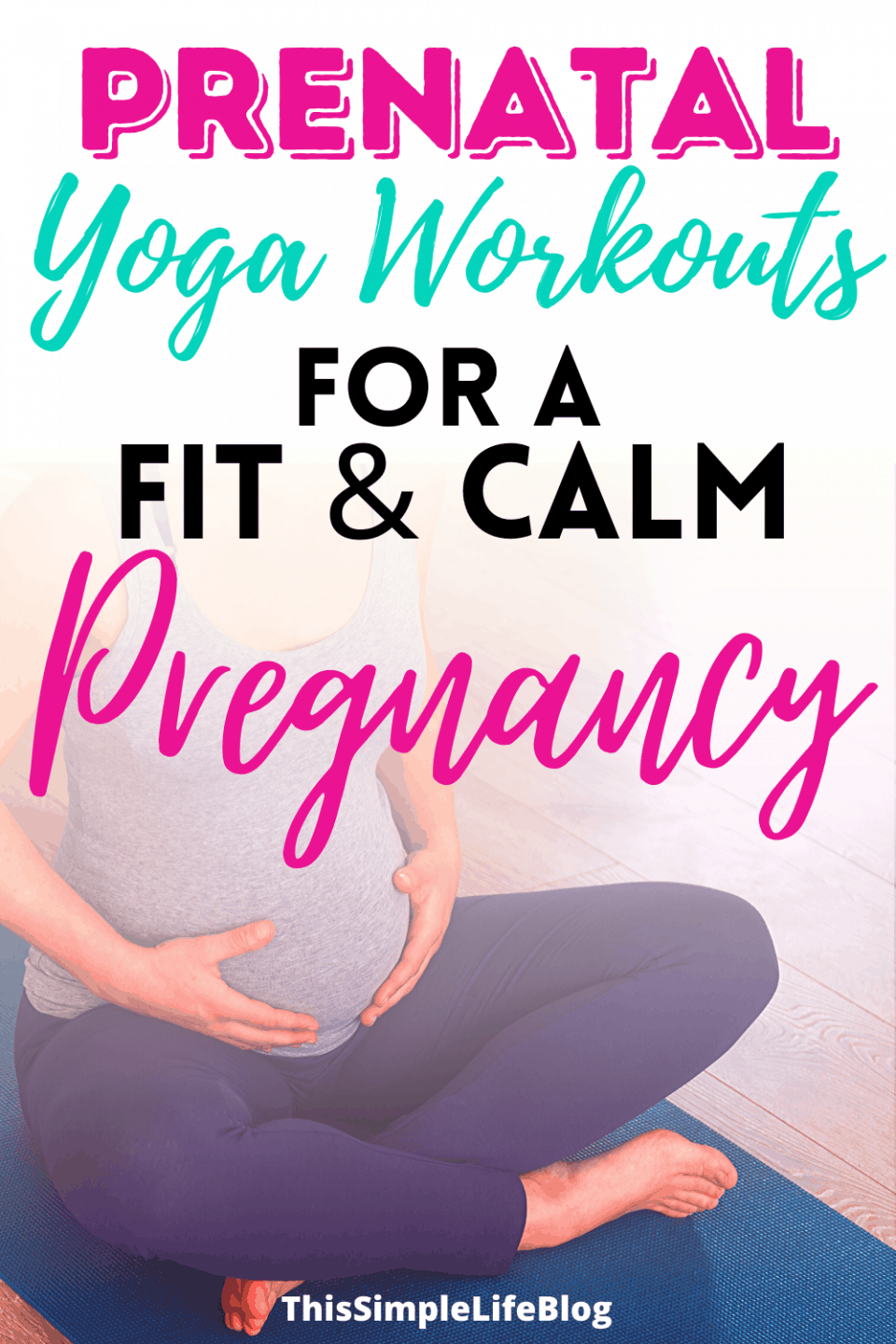 If you are brand new to yoga, or have not done prenatal (pregnancy) yoga before, I highly recommend checking out the YogaDownload online program.
Not only do they offer instruction that is totally affordable (like $0.16 per day affordable), but they offer specific prenatal classes, trained and incredibly knowledgeable instructors, class reminders, and an option to download classes to watch and practice anytime you want. 
Check out their current 50% off membership offer using code: YDL-50ME.
Prenatal Yoga Workouts 
This is a great yoga class that teaches the basics of breathing and the importance of using breath to connect your mind and body to your baby. You can use these breathing techniques for decreasing pain in labor as well.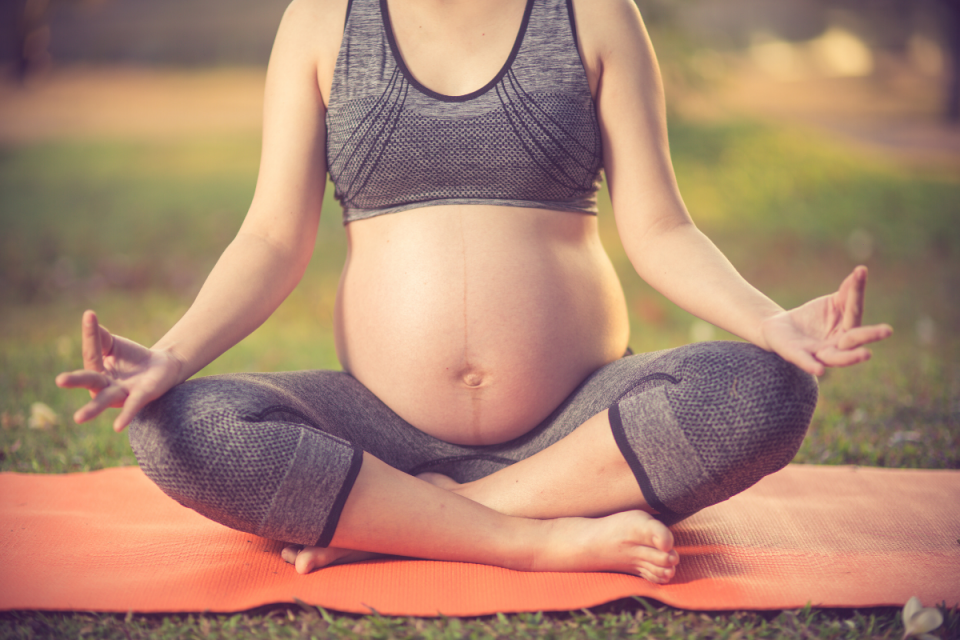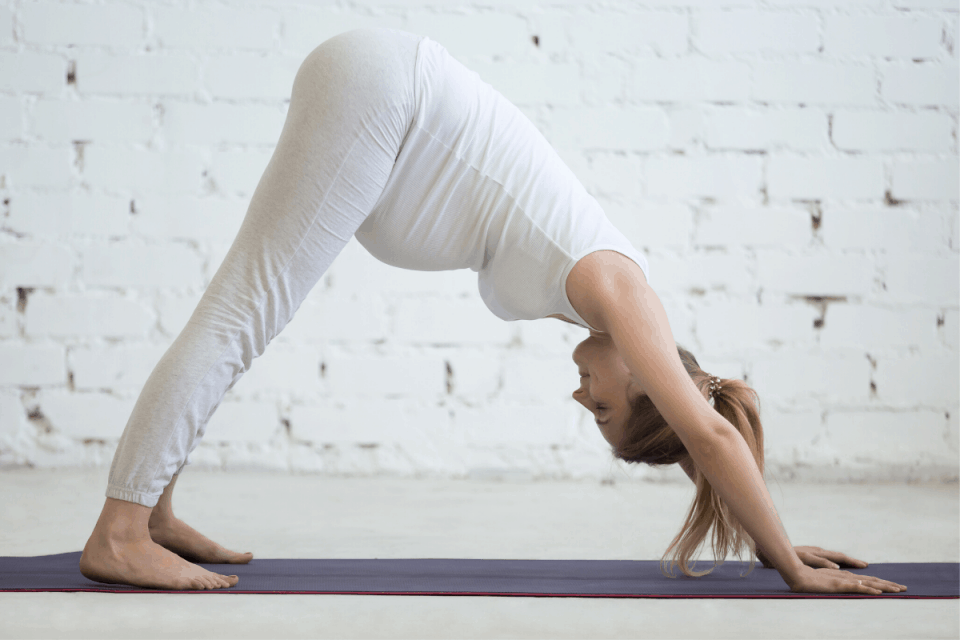 Want a relaxing yoga experience that also strengthens? The indie flow prenatal class does both, all while incorporating basic yoga poses with gentle guidance from an instructor.
Or, for a more beginner prenatal level, try the Gentle Prenatal Yoga class.
This class is meant for those moms who are in the 1st and 2nd trimesters of pregnancy. It provides great instruction and strength training from an experienced Qi instructor to get you ready for the task of labor and motherhood.
Check out the Qi Yoga Workout.
This Baptiste Power Vinyasa Yoga class will challenge and energize you all while making modifications for your growing belly. You will definitely sweat during this class while getting ready for the birth of your baby!
Looking for a super relaxing yoga practice for any trimester? This Healthy & Balanced Prenatal Yoga Flow class will give you that while helping with poses to alleviate common pregnancy ailments such as nausea and back pain.
This fun sounding yoga class does just what it says by helping to keep those muscles toned, your pelvis and spine in line, and opening up your hips for baby.
Yoga is such a fantastic and relaxing way to stay in shape (or to get in shape) and ready for baby. If you missed it at the beginning of the post, here is a  50% off offer from YogaDownload (use code: YDL-50ME) to get started today.
Please follow and share this amazing article!