*This post may contain affiliate links. If you make a purchase through a link, I may earn a small comission (at zero extra cost to you). You can read my policies and disclosures for more info.*
Women these days have so many options when it comes managing the pain that comes along with giving birth. The benefits though, of having a natural birth (one in which there is no pain medication) are hard to dismiss. If you're thinking of having a natural birth but wondering how to manage the pain, check out these top pain management tips for a natural birth.
This post may contain affiliate links. I may earn a small commission based on clicks or sales. Read my full disclosure here.
1. Take A Birth Class On Natural Birth
If you are a first time mom, have never had a natural birth before, or even if you have already experienced labor pains, setting yourself up for success by taking an online, self-paced natural labor birth class is a must.
I highly recommend Birth Boot Camp's Home & Birth Center Birthing Class.
Unlike classes of the past, you don't have to make time every Saturday to get to a class. You can do a birth class from home and on your own time.
2. To Manage The Pain of Natural Birth- Breathe, Breathe, and Breathe Some More
Breathing has long been recognized as a great way to deal with stress and pain. Breathing during labor is essential. Your muscles and your brain need oxygen to be able to function, relax, and deal with pain. The trouble is, if you are not prepared, the pain of labor will naturally cause you to hold your breath- which only makes pain worse.
Breathing during natural labor should involve changing your breathing patterns to match your pain and contractions. Check out more detailed instructions on how to do this here.
---
Need Some Light Reading? Download My Free Book For Moms…
5 Days to Becoming The Mom Your Kids Really Need
3. To Manage The Pain of Natural Birth- Relax
Pain will naturally cause you to tense up. In order to manage the pain though, you must concentrate on relaxing your muscles and letting them do their work.
Try laying your head back, closing your eyes, and listening to your favorite music, smelling some relaxing essential oils like lavender, burning incense, taking a warm shower, using a heat pack, or getting a massage from your spouse (be sure to ask your practitioner what he or she is OK with).
Remember to take in deep breaths, and exhale slowly through pursed lips to control your breathing, helping boost relaxation.
Check out also: Powerful Affirmations to Memorize Before Giving Birth
4. Get Acupuncture To Deal With Natural Birth Pain
Studies have shown that getting acupuncture before labor can help you progress, but using it during labor can actually ease pain. Acupressure works the same way, but is needless.
Acupuncture is not always supported by western medicine practitioners, but it does work.
To get acupuncture or acupressure during labor, start looking for a certified acupuncturist in your area many weeks before labor.
If you're interested in learning more about acupressure to help with labor pain, check out this great article! (Always check with your medical practitioner to make sure these techniques are safe for you before performing).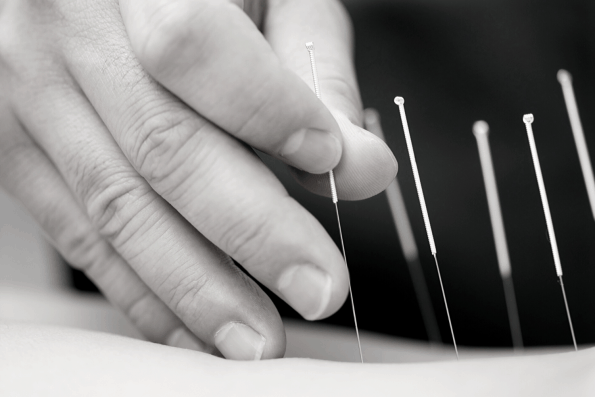 5. Consider A Water Birth
The benefits of having a water birth are numerous. The largest ones being that it helps to naturally relax your body (think warm water), and it helps you to get into different positions, helping your uterus not be weighed down by gravity and aiding in propelling your baby in the right direction.
Many hospitals have the option of water births as well!
Read more about the details of a safe water birth from AmericanPregnancy.org.
6. Meditation and Guided Imagery Help You Get Through Pain During Natural Birth
Since pain truly begins in the brain, try to take yourself through a familiar meditation or guided imagery sequence to help relax during labor. 
7. Drink Lots of Water To Help Your Body During Natural Birth
Your body and your muscles need water in order to do their jobs. If you are not in the hospital, ask your medical practitioner if it is safe to drink water (it generally is). 
Be prepared with a favorite large water bottle to keep nearby to ensure that you are drinking. 
Check out easy ways to drink enough water.
If you are in the hospital, ask for ice chips regularly.
8. Be Flexible About Your Pain Plan During Natural Birth
One of the most important things is to keep in mind that your birth experience, whether natural or not, may not go according to plan. Prepare for the mental possibility of this and you will be much more relaxed. 
The important thing is that you and your baby make it through the birth experience healthy and strong. 
Having a mental back up plan in mind will help you to not feel trapped if having a natural birth is not what you expected. Changing plans is OK. It's about you and baby, not which type of birth you end up having. 
Give yourself room to be flexible with that. 
*Want some really great, basically free baby supplies? (Yes, for real- all you pay is shipping) Click here!*
Check out some other related posts!
Please follow and share this amazing article!