*This post may contain affiliate links. If you make a purchase through a link, I may earn a small comission (at zero extra cost to you). You can read my policies and disclosures for more info.*
Mothers are a seriously tough lot. We expect ourselves to take on the world and raise a family all while maintaining beauty and grace. The problem is that your mind was not meant to tackle every problem. When you're a mom and your mind is anxious, it can really affect your life, and your family's lives as well. 
Anxiety is a normal human emotion. But what can you do when it seems to be taking over your mind?
Here are 8 ways to keep your mommy mind happy and anxiety free.
1. Get Up Before Your Kids
Waking up before your kids not only gives you a head start on things to want to accomplish, but it refreshes your mind as well. 
Take the time you need in the morning while all is quiet to journal, read your bible, pray, meditate, or spend some time in nature. Focus on what your mind is feeling, and how to achieve the mental health you need for the day ahead.
2. Stop All or Nothing Thinking
When it comes to a happy, anxiety free mind, some intentional thoughts are needed. An anxious mind often naturally runs thoughts that say a situation will be all or nothing, great or horrible. The reality is though, that most of the time real life falls somewhere in the middle. 
When you notice your thoughts are anxiously focused on extreme things (like your child dying), bring your mind back to center by remembering that life is usually not lived in the extremes. Tell yourself that other, less extreme things are much more likely to happen than the extremes you're anxious about.
3. Count Your Blessings
Think of all the things you are thankful for. Make a list if you need. This sounds simple but when you begin doing this regularly, your mind literally rewires to become happier and less anxious. 
Here is a list of things I'm thankful for…
My bed is so cozy when I wake up, and my house is comfortable to live in.
There is coffee downstairs for me to drink, and I have a favorite mug to drink from.
We have food in the fridge to feed our whole family, and then some.
My husband is healthy.
I have a washer and dryer that work.
The birds are chirping outside
I have a friend I can text a funny meme to and we can laugh together.
The heat in my house works.
My cats are cute and playful.
As you can see, you can list anything, big or small, that you are thankful for in your life. When you start focusing on all that is good about your life, it's hard to focus on your worry and stress in the moment. 
4. Give yourself space and time to cry
Often crying is seen as a negative reaction that we want to avoid. But crying is healing to your mind. Crying is key to keeping a happy, anxiety free mind. Over time, you will learn to listen to your mind so well, that you will be able to know when you need to go and have a good cry. 
Don't fight this feeling. Find a space where you feel comfortable and let yourself cry. 
5. Exercise
Exercise is not only great for your body, but your mind as well. Studies show that regular exercise is related to happiness in a powerful way. Anything that gets your heart pumping helps to release feel good endorphins in your brain. 
Here are some exercises to try…
Running
Pilates
Yoga
Swimming
Biking
Walking
Aerobics
Cross Fit
Weightlifting
Hiking
Rowing
Zumba
6. Breathe With Intention
Anxiety tends to cause you to hold your breath and tense up without even realizing it. Remembering to take some time to breathe is so important to relaxing your body, as well as your mind. 
How to do it…
Focus on slow deep breaths in, while imagining yourself breathing in God's grace and love for you. Then breath out fully while imagining all that worry, anxiety, and negative energy leaving as you blow out that breath.
7. Spend Time in Nature
There really is no substitute for getting outside when it comes to building a happy, anxiety free mind. Breathing fresh air, and feeling the sunshine on your face is healing for anxiety. Not only is vitamin D extremely important for a happy and balanced mind, but time spent in nature has been linked to a greater feeling of happiness overall. 
Here are some ideas…
Bounce on the trampoline with your kids
Take a family walk
Take a hike
Fly a kite on a sunny day
Go camping
Have dinner on the porch
Watch the sunrise
Need some light reading? Check out my new book and learn some simple techniques that I use to keep me grounded as a mom.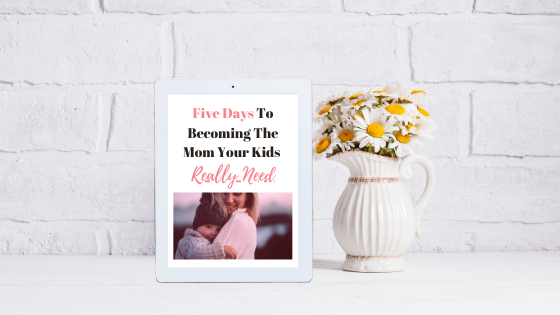 8. Make Sure You Feel Loved
Often feeling empty, misunderstood, and unloved leads to a greater sense of instability and anxiety, especially in women. When you are a mom, and expected to take care of others, you need to make sure that you are feeling loved and secure before you can be expected to give that love to your family.
If you've never read it, I highly recommend the book, The 5 Love Languages written by Gary Chapman. This book is groundbreaking, and will teach you not only how to better love others, but first how to feel loved by others. It is a cornerstone of my book collection. 
For a more in depth discussion on building a happy, anxiety free mind, sign up for the free class below.
Check Out Some Other Motherhood Articles!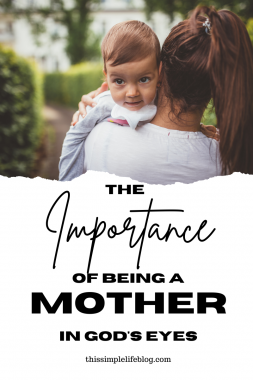 July 13, 2021
When it comes to being a mother, no priority is...
Read More
Please follow and share this amazing article!