*This post may contain affiliate links. If you make a purchase through a link, I may earn a small comission (at zero extra cost to you). You can read my policies and disclosures for more info.*
Y'all, I am serious about wanting and NEEDING to have more patience with my kids. I am NOT naturally a patient person. In fact, when God made me I am pretty sure that he flat out forgot to put in my patience DNA. That said, I have found some ways to almost instantly have more patience with my kids.
These tips or tricks- whatever you want to call them, they really, really work.
So if you lose patience with your kids more than you should, (i.e. if you're a mom in stressful times), check out the tricks I use to instantly have more patience with my kids in almost any situation below. 
This post may contain affiliate links. To read my full disclosure, click here.
Why do moms lose patience?
Patience is a funny thing. I seem to have lots of it when I wake up, less during the day, and by the time I want to go to bed, it's nowhere to be found. I think you, and most moms experience this trend as well. 
Where does our patience go?
Well according to this article, loss of patience is really just frustration in disguise. Frustration over not feeling heard, or having our needs met as moms. Frustration with outside stressors, or things that pop up throughout our days that disrupt our mental plans. 
Common symptoms of losing patience: 
Irritability 
Feeling frustrated
Snapping at or being harsh on those you love
Feeling your mind racing
Wanting to control your kids or others
Feeling your neck, jaw, or body tense up
Experiencing all or never thinking ("she always does that," or "he never listens.")
Is losing patience always a bad thing?
Losing patience with your kids is usually not a good thing, but in certain circumstances it could be. 
If you lose your patience and become frustrated with your kids a lot (multiple times per day), then this should tell you two things. First, you have a frustration going on internally that you need to look at. Second, that your kids are going to eventually learn to behave handle their frustrations as you do. 
Screeeech! Stop the speeding impatience train! I want to raise great kids, not ones that have the same bad habits as me! 
So if you lose your patience frequently, your kids are going to start acting the same way. This is enough to make me start searching for ways to change. 
Of course on the flip side, the occasional loss of patience (occasional being key here) can get your kids' attention like no other. In this case, your kids will know that you are serious because you don't normally act this way. 
But you are here because you probably lose your patience more than you would like to, so let's look at how to stop this bad habit of frequently losing our patience and teach our kids better. 
How to to instantly have more patience with your kids in (almost) any situation.
I love these methods, tricks, tips- whatever you want to think of them as, because as I said earlier, they really work. And trust me, if I can be successful at them, then you can too.
1. Focus on what a more patient you would look like. 
Among other things, I like to daydream in my off time as a mom (Ha!) about how to be a better mom. I often envision myself responding calmly to my kids when they are doing something to push my buttons. I not only envy people who can be loving and patient with their kid's bad behavior, but I think of ways to emulate that behavior. I think that envisioning how to can reach my goal of becoming a more patient version of myself is key to obtaining it.
One practical and physical thing I do is turn to the Bible to see what God says about being patient:
1 Corinthians 13:4-5- Love is patient, love is kind. It does not envy, it does not boast, it is not proud. It does not dishonor others, it is not self-seeking, it is not easily angered, it keeps no record of wrongs.
Ephesians 4:2- Be completely humble and gentle; be patient, bearing with one another in love.
Romans 12:12- Be joyful in hope, patient in affliction, faithful in prayer.
Romans 15:5- May the God who gives endurance and encouragement give you the same attitude of mind toward each other that Christ Jesus had.
Journaling
I love to journal about how to be more patient, and why I think I lose my patience with my kids. It's crazy what comes out of my mind when I sit down with a pen and paper.
While admittedly envisioning yourself as a more patient mom won't always help you in the moment of intense frustration with your kids, it is a great overall first step for reaching your goal of having more patience.
2. Focus daily on gratitude.
This sounds so cliche. This is exactly the kind of thing that my mom said to me growing up that I would roll my eyes at. But guys, IT WORKS!
Having a grateful heart goes a loooooooong way towards changing my frustration and patience level. And this step does work pretty much instantly for me. And when I say focus on gratitude, I don't mean, focus on all the deeper meanings of life and get all philosophical. What I mean is, literally focus on the tiny, everyday things that are going well, or that I appreciate. Things like:
My bed is so cozy when I wake up, and my house is comfortable to live in.
My kids woke up energetic and healthy today.
There is coffee downstairs for me to drink, and I have a favorite mug to drink from.
We have food in the fridge to feed our whole family, and then some.
My husband is healthy.
I have a washer and dryer that work.
The birds are chirping outside
I have a friend I can text a funny meme to and we can laugh together.
The heat in my house works.
My cats are cute and playful.
As you can see, I literally think about all of the teeny, tiny, everyday things that I wake up to that you might normally take for granted.
This is easier to do when there is not a giant outside stressor looming over your head (like going through a divorce, a loss of a job, a family member being gravely ill). However this gratitude trick works even then!
If you keep your focus on what you are grateful for, it's nearly impossible to focus on what is frustrating you. This instantly makes you a more patient mom with your kids.
3. Learn your triggers.
Over the years, I have noticed some trends: I get crabby when I am tired, hungry, don't feel well physically, or am stressed about a life issue.  That crabbiness always leads to impatience with my kids. Below are some common triggers that may be causing you to lose your patience that you may not have thought of:
Hunger
Fatigue (think- getting enough sleep)
Mental exhaustion (think-never enough mental down time and constantly moving on to the next thought)
Constant noise (kids are usually loud)
Feeling out of control
Feeling unloved or worthless
Feeling misunderstood
Dealing with physical pain or not feeling healthy
Find ways to take care of yourself before you expect to take care of your kids, and I promise that you will be more patient instantly.
4. Seek your child's heart, rather than their behavior.
This trick works well if your kids are regularly pushing your buttons.
As a mom who is generally not patient, and sometimes quick to irritation, I've had to learn that my kids are not actually trying to be irritating little creatures who push my buttons. They are just trying to figure out how to live their lives the way that makes sense to them.
What makes sense to a baby, a toddler, a 5 year old, or a teenager is usually the opposite of what is logical to me as an adult.
If I can train my brain to see my child's heart rather before I focus on whatever behavior is irritating me in the moment, I can be instantly more patient with them. You can do this too.
For example, your 10 year old comes home from school with a bad attitude and gives you short and snappy answers when you ask him how his day was. Before you focus on his disrespectful attitude, think about why he is acting the was he is. (Maybe he had a bad day, maybe someone made fun of him, maybe he lost a friend, or did bad on a test).
Focus on seeing, feeling, and tending to your child's heart before you focus on his behavior. After all, our heart is where our behavior stems from.
Click HERE for access to the free printable download below.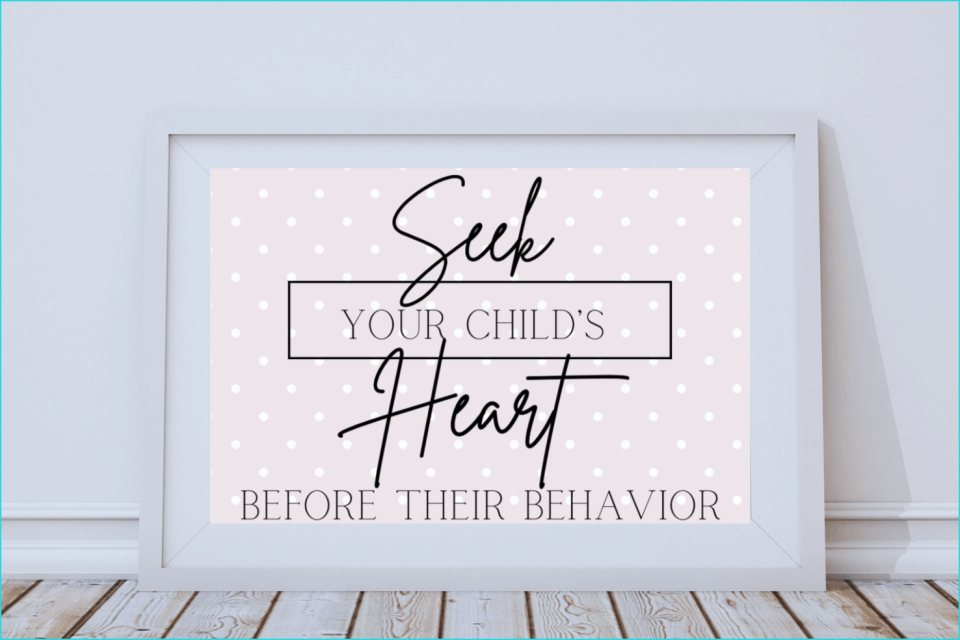 5. Remember that tomorrow isn't promised.
I hate to go here, but sometimes we need a harsh reality check. When I am having a particularly hard day with my kids, and my patience is thin, it works to remind myself that I need to live for today, because tomorrow may not show up at my door.
People and kids die everyday. Think about if how you chose to treat your kids today was the last thing that they remembered about you.
**Cue the crickets** Chirp, Chirp.
This may sound a little morbid, but if are a highly emotional person, this will work for you.
6. Keep positive signs and notes around your house that redirect your focus.
I like to keep signs, sayings, and post-it's around my house that remind me to face the day with a patient and grateful heart, because today is all we can be sure of.
These little reminders are like quiet beacons of light that draw me back form my frustrations and instantly give me a bit more patience.
7. Remember your own childhood.
Remember what it felt like to be a child, and to think like a child. Remember what it felt like when your parent was impatient with you. Remember how you didn't understand why they treated you that way, because you were just being a kid. 
For me, this is a powerful thought, and it changes my perspective instantly. I remember exactly how if felt to be misunderstood and to feel that I was irritating someone just by being me. I never want my kids to feel that way if I can help it. 
8. Pray regularly for peace.
Notice I didn't say to pray for patience. I don't like doing this because I feel like God always brings me more patience testing situations when I do. 
Instead, I pray for peace. This works for me because when my internal peace is disrupted for whatever reason, I am quick to become impatient with my kids. 
Isaiah 26:3- You keep him in perfect peace whose mind is stayed on you, because he trusts in you.
Philippians 4:6- Do not be anxious about anything, but in everything by prayer and supplication with thanksgiving let your requests be made known to God.


 
You can pray for whatever will increase your patience level with your kids too. 
I hope you find some helpful tips in this post that will help you to become the more patient mom you want to become! Let me know in the comments anything else that you would add to this list, and pin the image below to share!
Want Motherhood Inspiration? Sign Up Below!
Please follow and share this amazing article!