*This post may contain affiliate links. If you make a purchase through a link, I may earn a small comission (at zero extra cost to you). You can read my policies and disclosures for more info.*
Anxiety can be a pain (literally) to live with. But when you're a mom, anxiety often becomes worse and starts affecting your kids as well. It seems to have tentacles that reach into every part of your life!
If you're like me, you might even feel like your anxiety is starting to hurt your kids, and those you love. But- it doesn't have to! In this post I'll discuss how to live with anxiety and still be a great mom!
Rewind my life 12 years ago and I was just about to have my first baby. 
I prepared for her arrival the way I did everything in life, I planned every detail of it down to the tiny outfit that she would wear home from the hospital.
I had a plan from the get go of how I wanted to be such a perfect mom to my sweet little girl.
What I didn't plan for though was how I was going to manage my anxiety (which unfortunately often came across as anger) when my daughter arrived.
I didn't plan for it because I probably didn't really realize that my anger was induced by anxiety back then.
The trouble is, it took me a long time to realize that I had anxiety, and even longer to learn how to fix it!
I was determined though, that I didn't want my anxiety to keep on affecting my relationships with my friends, my husband, and especially my kids.
I was determined to change.
I went to multiple counselors but honestly never really had much of a break through until my mid 30's. I was so tired of beating myself up and being such a stressed out mom.
I was tired of feeling like I was ruining my kids with my own problems.
It didn't change overnight, but I finally started to get on top of my anxiety.
Here are the key things that I've learned- that can help you live with anxiety and still be a great mom.
Pray
Above all, I pray to God for peace. He says that He doesn't give us a spirit of fear, but of power, and love, and of sound mind (2nd Timothy 1:7).
I fully acknowledge that just because the bible says this doesn't mean that we won't still get fearful and anxious, especially when we are tasked with taking care of tiny humans who don't always avoid our buttons! But reading what God says regularly about fear and anxiety sure does help me to keep my worries and attitude in perspective.
Take care of yourself
This may sound silly, but all this talk of self-care these days is here for a reason. Most moms just don't take the time to take care of ourselves the way we care for our families!
We pride ourselves on being great moms and loving our kids, but we don't realize that taking care of ourselves is a priority too! You can not fill up your family's love bucket if you don't have anything left in yours to give. You MUST take care of yourself before you can be expected to care for others!
Here are some ideas:
Plan time for yourself-

Write it on a super cute calendar and post it for your family to see (I recommend you plan at least one hour per day if the ages of your kids allows)!
Buy things that keep YOU happy, healthy, and fed- A little money spent on yourself can be just what you need sometimes! Personally, I love getting subscription boxes Like FabFitFun. It makes me happy and it is a small cost when I consider all the other money I spend on things my kids need.
Wake up before your kids in the mornings– I love to get up and journal, or read my favorite devotional, Jesus Calling (which is amazing and you should check it out if you haven't), and drink my coffee in the mornings.

Get enough sleep-

this was a tough one for me since my husband is a night owl, but getting to bed earlier makes a HUGE difference in my level of anxiety and irritation the next day.
Plan out your day
I am a planner. If I am facing a dauntingly long day with the kids, it helps me greatly to mentally plan different sections of the day. Then, I can enter the day with more feelings of being in control and I feel much calmer.
Practice how you'll deal with anxiety BEFORE it arises
This was the biggest shocker to me as I had never considered thinking about how I would deal with my anxiety BEFORE it became a problem.
A counselor once suggested to me though, that just like with practicing for an emergency if you work in healthcare, that those with anxiety should practice how to calm down before an anxiety attack arises. Genius!
I do this by journaling my feelings and planning out mentally how I will handle something that makes me anxious- if it were to actually happen.
I often practice deep breathing as well. This way, when my anxiety starts to skyrocket, my body is already used to doing the actions that will help- remembering how I've decided to respond, and taking deep breaths.
Apologize to your family- even kids- when you lose your patience
This is a huge one for me. I learned early on that I didn't know how to stop my anxiety and my over-reactions when I was anxious, but that sincerely apologizing to my kids when I lost my patience with them and explaining to them how I struggled, mended so many wounds.
Honestly, I think this made my relationship with them stronger than if I had been a perfect mom!
Do Yoga, or really ANY exercise
Most people's mental health is helped by doing regular exercise, and while running helps me, I hate doing it. I do yoga instead because it is super relaxing and encourages deep breathing, as well as strengthening my muscles.
Check out the great healing and mind restorative yoga practices at YogaDownload (enter code YDL-50ME for 50% off).
You can also find awesome free yoga videos at YouTube!
Try natural calming supplements
There are many supplements on the market that are advertised as anti-anxiety, or stress relieving.
Look for a supplement with all or some of these ingredients for the best results: Gaba, L-Theanine, 5-HTP, Ashwagandha, Magnesium Oxide, St. John's Wort, and Chamomile.
All of these ingredients work in the brain to help naturally decrease levels of stress, and increase levels of calm.
I love the Olly brand- Goodbye Stress, and the NutriSuppz brand-Anxiety Formula, and it's not only me saying this, both have fantastic reviews from real customers!
Of course, you should always run any supplements past your Dr. before taking as they may interact with something you are already taking.
Go see a doctor or a counselor
There is seriously no shame in going to see a medical or mental health professional and discussing your problems. Prescription medication can be a huge benefit to a lot of people, and counseling can be life changing!
If all else fails, give it a try before you decide these options won't work!
The take away on dealing with anxiety
Dealing with anxiety when you're a mom can be tough, but it doesn't mean that you are a bad mom. In fact, I think that realizing you have a problem, and finding solutions so that it doesn't overtake your life makes you a great mom!
Ultimately, anxiety doesn't define you, and dealing with it in healthy ways can teach your kids how to deal with it in the future as well.
If you have any sure fire ways that you deal with anxiety that help you, I'd love for you to leave a comment!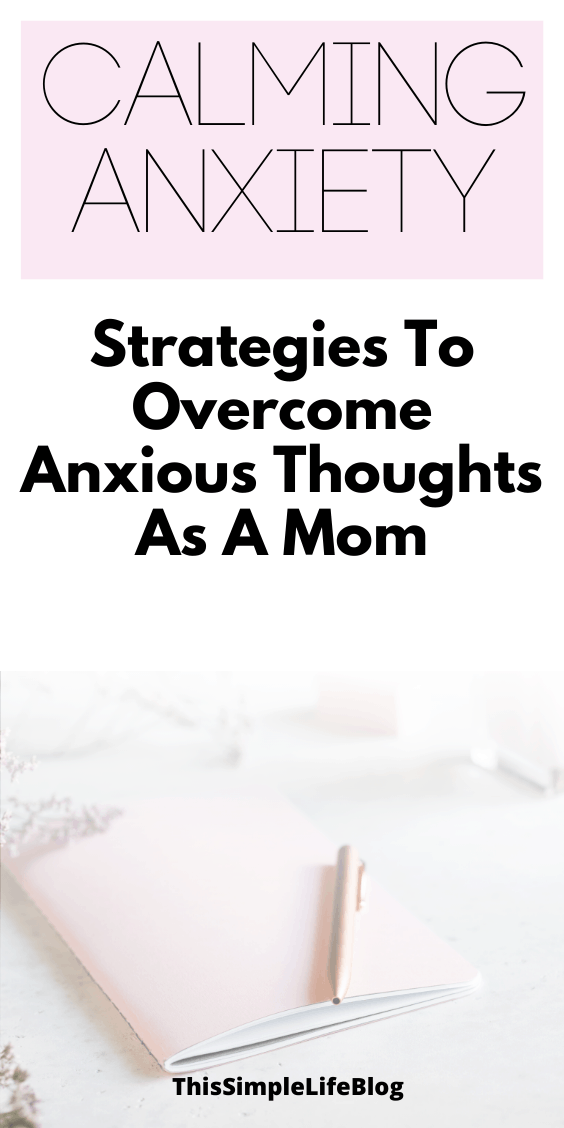 Please follow and share this amazing article!