*This post may contain affiliate links. If you make a purchase through a link, I may earn a small comission (at zero extra cost to you). You can read my policies and disclosures for more info.*
Pregnancy is a wonderful time in most women's lives, and one of the biggest blessings that got gives. But when you are struggling with feeling healthy during pregnancy, it can become a very difficult time to walk through. Here I will give some easy tips and tricks to help you feel great during pregnancy.
After 4 kids, and now almost 5, I've learned a thing or two about being pregnant. I've learned that I will feel rotten in the beginning, great in the middle, and huge with a sore back towards the end. But I've also learned lots of awesome tricks to help myself feel better along the way.
This article may contain affiliate links~ read my full disclosure here 🙂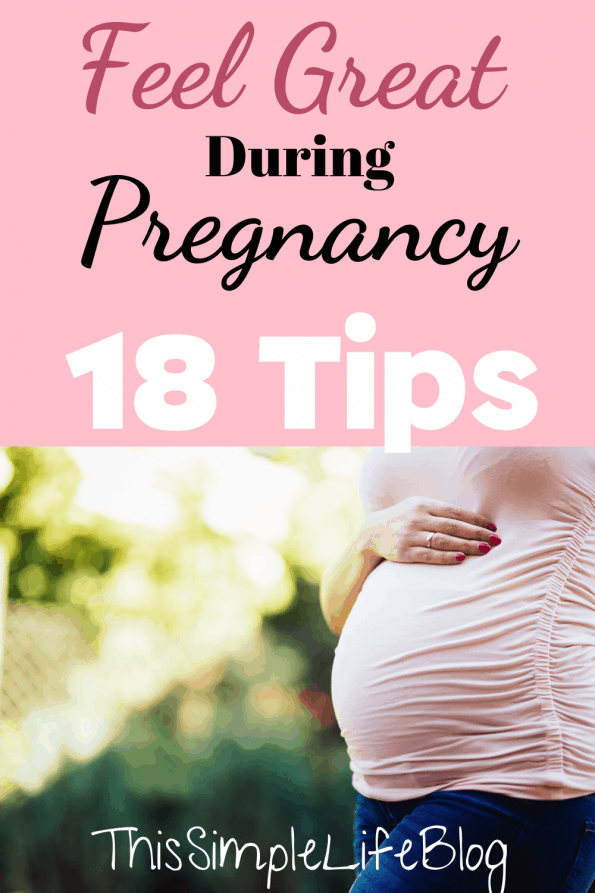 The first Trimester:
1. Start taking prenatal vitamins many months before actually getting pregnant.
For the health of your baby, it is recommended that you begin taking a good prenatal vitamin plenty of months prior to conceiving. However, this advice has another wonderful benefit- you will likely experience much less morning sickness if your body has built up its vitamin storage prior to getting pregnant.
2. Meal plan for your family IMMEDIATELY after finding out you are expecting.
It is so exciting when you find out that you are expecting! You may feel great for a couple of weeks after you find out, and if so, perfect! Since most women will experience some morning sickness that usually makes them feel pretty rotten overall, use this time to meal plan and prep and put away some freezer meals for the next couple of months. This way, you won't have to try to figure out what the heck is for dinner at 5 O'clock when your family is hangry and you feel rotten.
3. Have carbs on hand for yourself and snack often.
If you do experience morning sickness (which can honestly be more like All-Day-Sickness), you'll thank yourself for keeping lots of breads, pastas, crackers, and other carby snacks on hand. I couldn't get enough of grilled cheese during one of my early pregnancies. These types of foods will help settle your tummy a bit more than foods like veggies, meats, and fruits.
4. Check out some fun products that alleviate nausea.
My favorite product to help with nausea is SLEEP, but a very close second were the Sea Bands. I got them on amazon for cheap (think, under $10) and they actually work decently to help with nausea. I love these especially because they use acupressure to the P6 point on your wrist, and have actually be studied and found to be comparable to some antinausea medications! The best part is, they are completely natural.


Natural mint drops like these helped my tummy to feel better for a while, and peppermint is a natural tummy soother anyway (not the Christmas candies that are filled with sugar though). I liked these because I could keep them all over the house and in my car so I had them anywhere I went.


I also liked Preggie Pops which are little drops of hard candy that you suck on, and contain natural oils and B6 that has been proven to help quell nausea. I don't think though, that these were as effective as the Sea Bands or peppermint drops, and they are a bit more expensive. I did like just being able to suck on a hard candy though, as I felt like this helped more than the actual ingredients in them.


One product that looks promising (even though I have not tried this), is the Pink Stork Magnesium Body Mist. It has hundreds of really good reviews on Amazon for actually alleviating nausea, and not just because of the pretty packaging! If anyone tries this, I'd love to hear your honest review!

5. Take naps regularly and get enough sleep at night.
Even though your baby bump isn't visible yet, your body is working some serious overtime trying to make that tiny human! Give yourself permission to take naps when you need to, and go to bed a little earlier than normal so that you have the energy to handle life for the first couple months of pregnancy.
6. Find an OB doctor and decide which hospital you're comfortable delivering at.
Make sure that you're comfortable with your doctor and how they practice. If you have a birth plan, make sure the Dr. is Ok with your plan A. If not, shot around. If you decide against having your baby in a hospital and would rather go with a birthing center or a home birth for a more natural birth experience, check out ways to decrease pain during a natural birth.
Second Trimester:
1. Enjoy your pregnancy!
This is usually the easiest, and therefore the best of the trimesters! Generally your bump is still fairly small, you can feel your baby's little fluttering movements (which is sooo sweet), your nausea and extreme tiredness is gone, and your back doesn't hurt a ton.
2. Prepare, prepare, and prepare some more!
I don't know about you, but preparing makes me feel so much better. So since you feel pretty great at this point, use this time to do things that need to be done before baby like:
Prepare the baby's room
Baby proof the house
Put together a bath caddy
Shop for baby essentials like bottles, pacifiers, diapers, blankets, etc.
Prepare a nursing/feeding caddy
Buy needed breastfeeding supplies
Do some house cleaning and purging of clutter
Meal plan and prep for after baby arrives, or enlist close friends and family to bring meals for the first couple of weeks
Shop for an approved car seat and make sure it fits into your car
3. Find a pediatrician.
If you don't have a pediatrician for your baby yet, this is a great time to start looking. Just like hiring an employee, you'll want to shop around and even make a few appointments for consultations with the physician's office before the baby comes. Make sure that you are super comfortable with whoever you choose and that he or she is OK with your stance on vaccinations PRIOR to bringing your baby in. (I mention this because some pediatric offices are now REQUIRING you to vaccinate your kids on schedule or they will not see you- if this is an issue for you, go somewhere else). Completing this step will put your mind at ease and make you feel less stressed, and more prepared.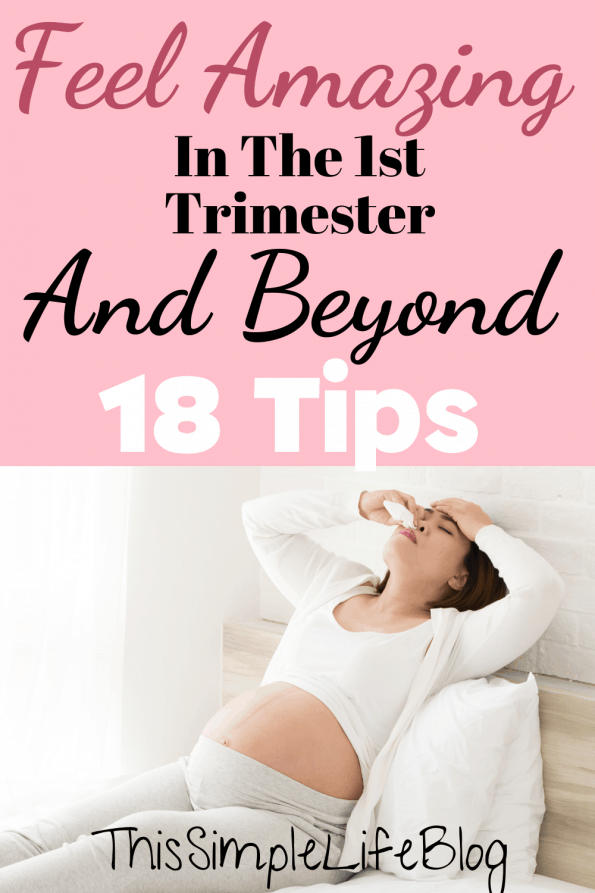 Third Trimester:
1. Give yourself permission to get off your feet and rest.
You tiny bump is probably much larger by now. You will likely get more tired of being on your feet at this point. Don't expect too much of yourself physically, especially at the later weeks of the third trimester.
2. Find some super comfortable and supportive shoes for your feet
Enough said, being on your feet when you're carrying lots of extra weight from the baby will cause super sore feet by the end of the day unless you have some good shoes to support your weight.
3. Do yoga.
During pregnancy, hormones cause your ligaments to become more stretchy- especially in the pelvic region- in preparation for labor and delivery. However, this can cause pain in the hips and groin especially. Yoga is a great and safe way to stretch and strengthen the muscles surrounding your joints in order to support them and alleviate pain. Yoga will also alleviate those mommy jitters and anxiety! You can find awesome free yoga videos by doing a quick search on YouTube.
4. Get a belly belt.
This is a great little belly wrap that can be easily worn under your clothing. It will keep your hips and groin from getting sore, as well as your lower back as it helps support your all-baby-tummy. The one shown below is form Amazon and is $13.99 and great ratings.

5. Prepare a hospital bag.
I would recommend doing this towards week 30, unless you are high risk and have been showing signs of labor before this. A baby is full term at 38-40 weeks, however, if you go into labor early, you'll want to be prepared with a fully stocked hospital bag that you can grab and take to the hospital in a rush.
6. Get the best sleep possible.
In your later stages of pregnancy it seems like it's impossible to find a comfortable position in bed. You need your rest though, so you really don't want to toss and turn all night. My best tip is to get a super comfy body pillow that is made specifically for pregnancy. You can use multiple pillows to support your back and your tummy and your legs, but honestly you should consider spending a bit of money on a good pregnancy pillow because it is soooo worth it. I love this one from Amazon for $45, but there are tons out there that you can find.

7. Stay hydrated.
Drinking lots of water is essential to helping you feel less tired, and keeping both you and baby healthy. Get a fun Water Bottle
that you can take with you anywhere and you'll never have an excuse to be thirsty!
Check out how to get yourself to drink more water here.
8: Schedule a fun maternity session photo shoot.
This is a super fun way to capture memories for years to come, and to remind yourself how beautiful you are even while pregnant!
Get ideas for beautiful maternity poses here!
9. Get your hair and nails done done and splurge on some new make-up.
This is a really fun way to pamper yourself before baby comes, and will help you to feel beautiful even while feeling giant.
The biggest take away is to remember to take care of yourself, as well as your growing baby! It's so easy for women to take care of others before themselves. But being pregnant requires a lot of energy from your body so it's essential to regularly take care of yourself in order to feel your best during pregnancy.
Have other things you would add to this list? Drop them below in the comments!
Want More Motherhood Inspiration? Sign Up Below!
Please follow and share this amazing article!