*This post may contain affiliate links. If you make a purchase through a link, I may earn a small comission (at zero extra cost to you). You can read my policies and disclosures for more info.*
Drinking enough water can be a serious challenge! But if you are striving for better health, or looking to lose some weight, making sure that you get enough water every day is essential.
Personally, I struggled with drinking enough water for a long time, until I learned some super easy tricks that helped me to drink more. None of these are magical in nature, so if you're looking for a piece of wisdom that no one else has tried before, look elsewhere! But the tricks that I have found do work 100% of the time if I do them!
First, let's talk about the important role that water plays in our bodies!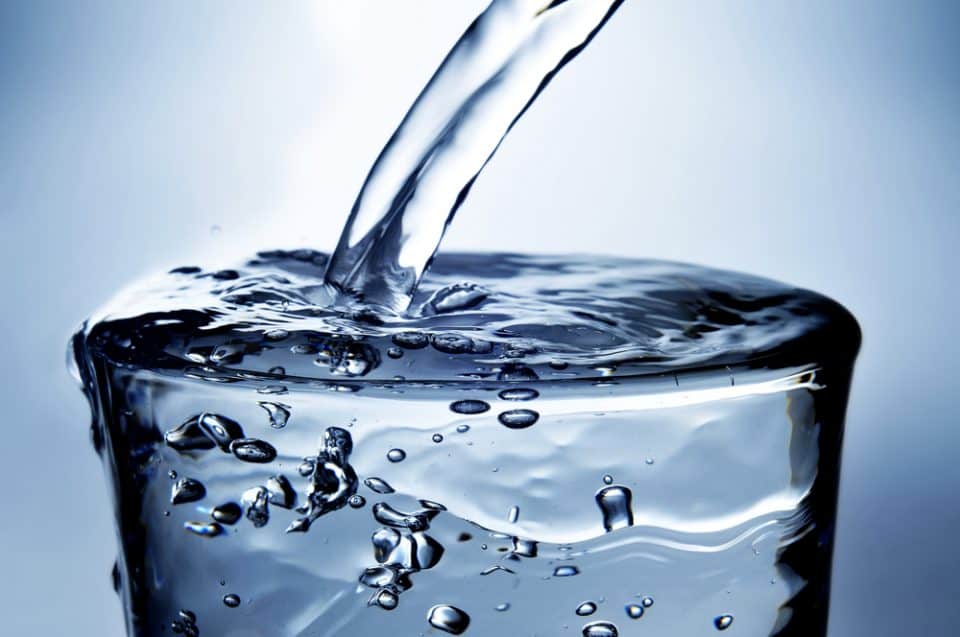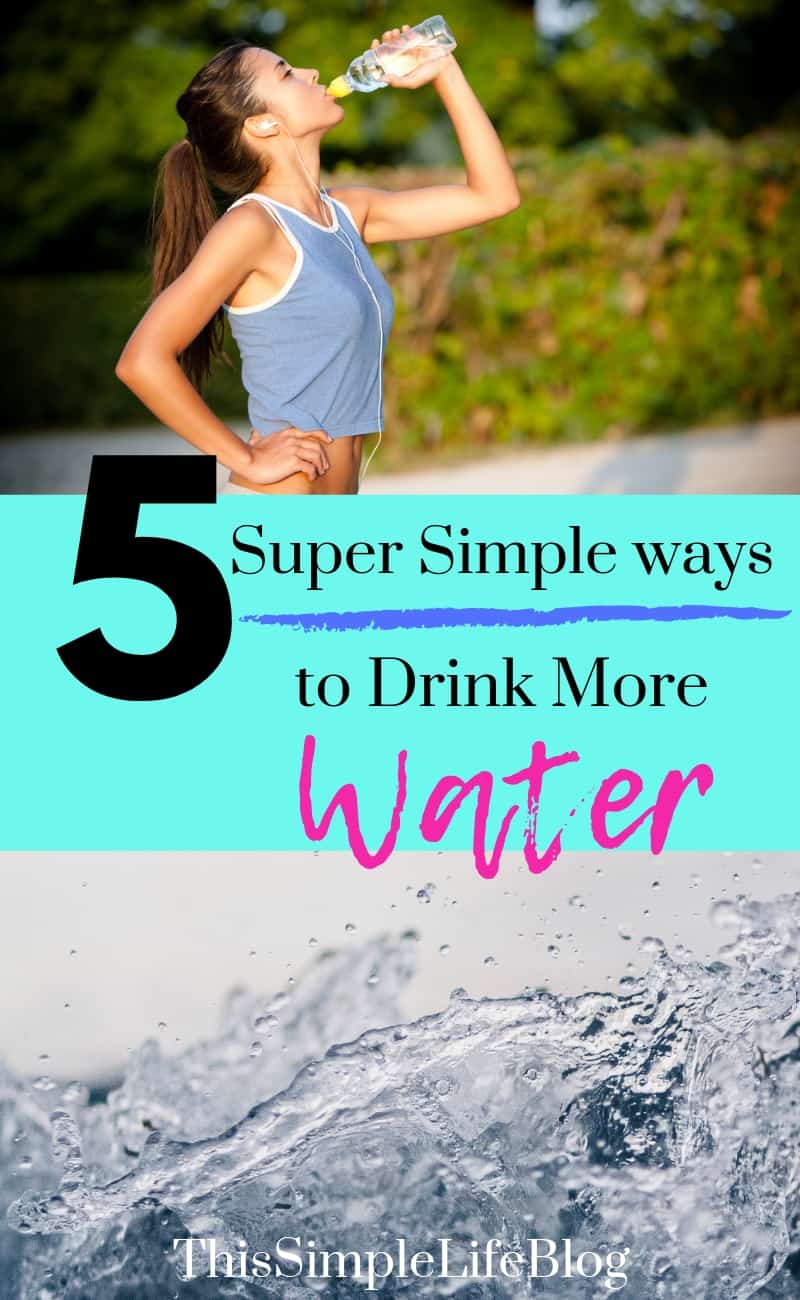 1. Only drink water from a BIG water bottle! 
This has been a game changer for me. Trying to get in enough water every day by drinking 8 glasses, or smaller water bottles just never worked for me. I would drink one, and keep it with me and try to sip on it throughout the day, but then if it ran out, I never found the time to go refill it.
I highly recommend against drinking water from disposable plastic bottles because they are usually not very high quality water, and they also contribute to plastic waste!
Instead, I very much recommend investing in a couple of really good quality reusable water bottles that will stand the test of time!
These are my absolute favorites that I have used for years…
~ This Camelback bottle is easy to drink from and leak proof, making this ideal for taking the car or tossing in my bag. I personally love Camelbak because they have a lifetime guarantee on their water bottles, so I know that the money I spend won't ever get wasted if something breaks!
~ The Camelback Chute Mag water bottle will give you more of a simple design and doesn't require a straw, but is still amazingly leak proof!
~ The Camelbak Eddy Glass Water Bottle is great if you'd prefer glass. Although Camelbak has high standards when it comes to the chemicals they use in their plastic, you can  avoid plastic altogether with this pick.
~ This Nalgene Titan Narrow Mouth water bottle is perfect for drinking while on the go because of it's design that won't spill easily even if you're moving! 
~ Or this Wide Mouth Nalgene water bottle is as simple as you can get, and still with fantastic quality that will literally last for years!
2. Keep your water bottle with you everywhere you go!
This is a must, and one of the reasons why I recommend having more than one water bottle. It's easy to forget your water when you are rushing out the door with kids and shoes and bags in tow.
However, if you keep a water bottle in your car, or at work then you'll still be able to ensure you get your water in that day even if you forget one bottle at home!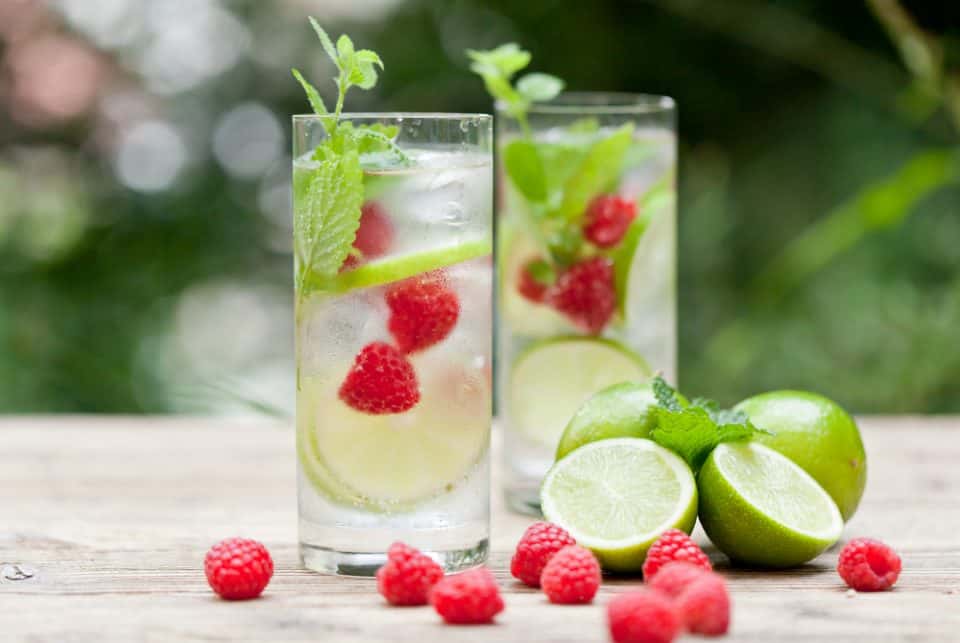 3. Make your water more interesting!
You might not like plain ole water, I get it! Depending on where you live and the quality of your tap water, your water may actually not taste very good. Aside from using a filter like this one from Brita that I really like, I love to flavor my water to make it more interesting!
The best part is, you can flavor your water with almost anything that you like pretty easily, and it really doesn't require a lot of cost!
Things that I love to keep on hand to put in my water are:
~ Lemons
~ Limes
~ Grapefruit
~ Mint leaves
~ Essential oils of all kinds – I highly recommend using a glass water bottle if you use any citrus oils because of the risk of them breaking down the plastic. Put a few drops in for a big water bottle and your water will taste amazing!
4. Any time you feel hungry, drink a few big gulps of water before eating!
This is also a tip to help you lose weight easier!
This trick is sometimes difficult for me to stick to depending on how hungry I am feeling. But honestly, using this method keeps me from going and finding something to eat at least 50% of the time that I feel hungry!
That means that I really wasn't actually hungry at all, I was thirsty! By drinking water before you eat, you will be able to avoid eating something you shouldn't, or overeating a significant amount of the time! That's huge!
5. Don't buy sugary drinks like pop or sweet tea to have in the house!
This is a really big one for me, and a lot of people that I know. If I buy pop and it is sitting on my counter staring at me, I will inevitably drink it! But if I crave a pop, and don't have it at my house, I will almost never go out to get it. In fact, I will drink water instead!
Drinking water is essential to our health, and staying well hydrated is easier than ever using the simple tricks above!
So click those links, grab a couple water bottles, and start drinking!
Combing drinking enough water with regular exercise will give you even more bang for your buck! Your future, very well hydrated, and energetic self will thank you in a couple of days!
Please follow and share this amazing article!