*This post may contain affiliate links. If you make a purchase through a link, I may earn a small comission (at zero extra cost to you). You can read my policies and disclosures for more info.*
There are times when it's an adult's world, and kids are really just dragged along for the ride. Then there are times when kids are totally and completely in charge and leave us adults behind, scratching our heads in confusion!
As a mom, it's easy to get stuck in a grove of responsibility, sleep, responsibility, repeat.
But when you stop and listen to your kids, and watch them try to be what they think a reasonable human is…you have to laugh!
Set aside your responsibilities for a few minutes and read some instances where kids absolutely nailed it with their wisdom and life choices…and the best part is, these kids are really not asking for anyone's opinion!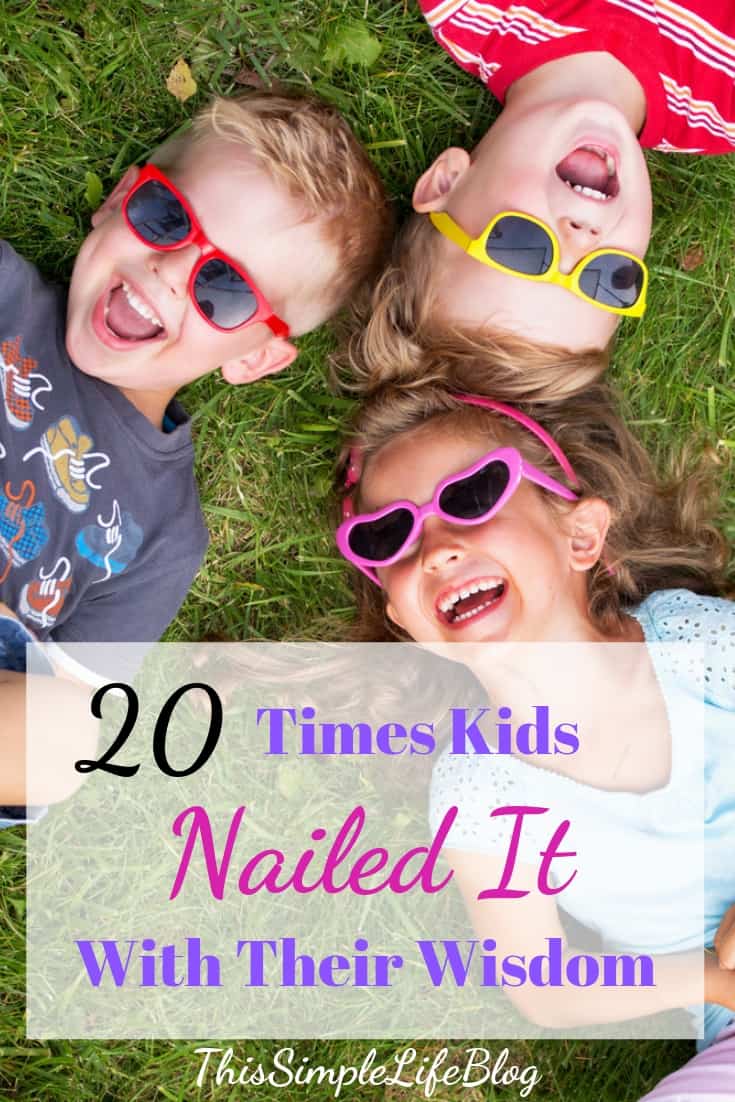 20 Times kids Absolutely Nailed it with Their Wisdom
1. 
"When I was teaching I had a 5th grader tell me that this girl at church reminded him of me. He followed with 'Yeah she wore all that crazy black stuff around her eyes too!' ::never wears eyeliner again::"
2.
"My 17 yo asks me to make her lunch. I reply with, "you're a big girl, I think u can do it". She responds with, "but one day you're gonna miss making lunch for me."
Crystal From Good Life Ingredients
3.
"I told my 4 year old that after lunch he needed to clean his room. 20 minutes after lunch, I reminded him to clean and he responded "I'm still chewing."
Jessica Churchill from Domesticated Wild Child
4.
"My son asked me what people give up for Lent. I told him usually something they really like as a sacrifice. There was a long pause and he said "Mom… I really like school."
Amy Kaniewski Clemons from Amy Clemons Photography
5.
"My 7 year old is in Kung fu and they have been teaching them meditation. My son has been calling it "memitation" and he has no clue!"
Talin Ksajikian Anderson from Half Stay at Home Mom
6.
"My son wanted to wash my car for me. He did a great job, just wished it wasn't in the garage at the time 🙄🙄"
Shannon Bynum Dewease from Southern Blessed Chaos
7.
"My two year old daughter has recently been crying over things I have no control over. She has a stuffed doll that doesn't sit up straight so she will spend 5 minutes trying to get her to sit up straight and then have a complete melt down because it doesn't work. The stuffed doll can never sit up straight it's just not possible but no matter how I explain it she wakes up the next day and does the whole process again."
Tricia Jones from The Healthy(ish) Home
8.
"…Mommy don't mess with me because you said it's my birthday I can do what I want!"
Майта from Cheerful Nomads 
9.
"My son had recently turned 3 and unfortunately I have a habit of saying "this is ridiculous." 
Well one day as we're getting ready for naps he apparently thinks that he shouldn't have to take one. He flops back on his bed and goes "you're being ridiculous" (except of course ridiculous came out more like "rudiculus.") 
I almost fell over from laughing."
Erin Santangelo at Threein3
10.
"My 7 year old starting singing a certain Rihanna song about having money REALLY LOUDLY inside the Kroger once. Then proceeded to ask me if I needed any "mommy drinks" aka beer. #badmom"
11.
"… just yesterday our 3 yo almost burnt the house down by microwaving corn dogs by using a dining chair to reach. 
Our 10 yo has also flooded our basement. 5 yo got stuck in a hole once. We've also had a horrendous experience of signing a toddler up for soccer (let's just say he never played). 😂"
Erin Nicole Vaughn from Vaughn Day at a Time
12.
"Just yesterday I noticed my 4yo had a "skid mark" on her undies so I told her to make sure and wipe better. Her response was "I was in a hurry mom, so I skipped that" 😧
Jennifer Widera from One Hoppy Momma
13.
"My 4 yo was walking around with one shoe on and I asked her why she only had one and she said she didn't want the other one and I said "ok so you want to walk around with just one shoe on?" And she said "yeah, what's that got to do with you?" 🤦🏼‍♀️
Christa Bybee at Piney Woods Mama
14.
"There is an expression that says my kids are climbing the walls. My three year old tries to climb a lot of things, including the fridge."
Tiffany Sears from Sears in the South
15.
"My son, age four, looked at this random man at a Taco Bell & said "Mom, I don't like him" really loud & pointed. Thankfully the man just smiled and we ended up talking lol."
Jessica Yerkes Tyra at Mess Hall Mom
16.
"My little guy was late in life blessing! He has several older brothers. One day he came around the corner with quite the surprise for us all. He found his 18-year-old brother's hair pomade. It was quite a sight!"
Tricia Brockway from Habibi House
17.
"One day, my younger son, who was 9 or 10 months old at the time, woke up super early. So, I picked him up from his crib and brought him downstairs. I made myself a cup of coffee and put him at his toy box to play. He seemed to be playing so nicely…or so I thought. When he turned around, I saw what looked like chocolate all over his face. He smiled, and revealed seemingly chocolate covered teeth. As I walked over to clean him off, the smell hit me. POOP! He literally ate dog poo and smeared it all over his face! "
Erin Ashley Boado from Lullaby Lark
18.
"I had a recent conversation with my daughter that went:
Her: Mom did you know there was a President Lincoln (her brother's name)?
Me: Yes, I did, did you know there was a President Reagan (Her sister's name)?
Her: What?! I wish there was a President Macie (her name).
Me: Maybe when you grow up you can be President Macie.
Her: No mom, I told you I'm going to be on YouTube.
Me: 🤦🏻‍♀️ Or maybe you could be a scientist like your dad?
Her: Oh yeah! Or I can do science on YouTube!
Didn't we all used to want to be Marine Biologists? And now our kids just want to be YouTube stars? 🤷🏻‍♀️"
19.
"Now that he is 15 months, he looks us straight in the eye (with a devilish glint in his own), baiting us, before proceeding to do the exact thing he has been told (requested /pleaded/ begged) not to!!"
Sakshi Varma from Triple a Mommy
20.
"My 16-month-old girl requires my "help" to drink out of her cup, but has no problem kneeling over the dog's water dish and slurping his water up. I can always tell when she's been doing it because her entire face is soaking wet, including her crazy mop of hair."
Ayesha Schroeder from Work From Home Mama
I think we all just got schooled on the importance of being yourself and not asking for opinions! Let me know some crazy things that your kids do that they think is totally acceptable!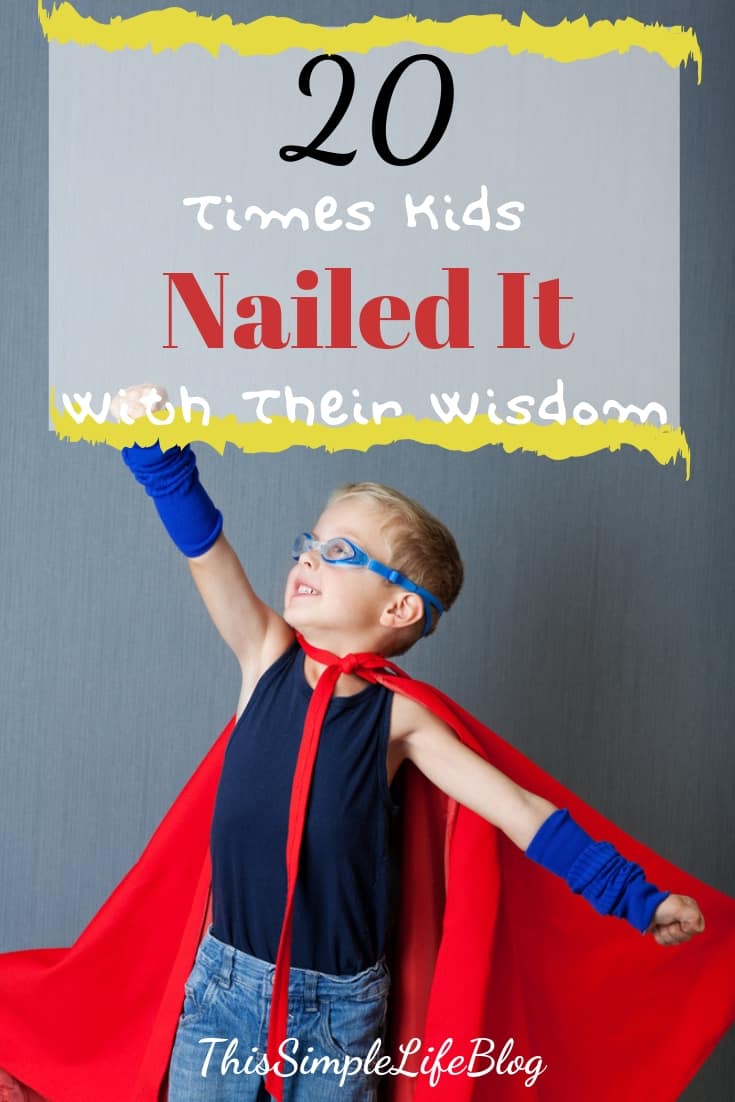 Please follow and share this amazing article!