*This post may contain affiliate links. If you make a purchase through a link, I may earn a small comission (at zero extra cost to you). You can read my policies and disclosures for more info.*
There has been a craze lately, I'm sure you've heard of it. It's where people are starting to realize that giving their kids stuff can not compare to giving them experiences, and we are totally, and completely on board with this trend!
As a family, we started thinking about doing this a few years ago. But Christmas was our biggest stumbling block. One year, my mom decided to gift our family a family membership to our local zoo instead of buying us all gifts! It was a life changer! We have either been gifted a zoo pass, or bough one every year since because being able to go to the zoo any time we want is so much better than toys for my kids!  Through the years, we have made small changes and scaled back here and there with gift giving. Now, both my husband and I are definitely on board with spending more money on experiences rather than stuff!
We think there are some pretty huge benefits!
Here's why we spend money on experiences, not stuff
1. Our kids are less expecting, and more grateful!
We realized quickly after having children, that they came to expect a lot of gifts at Christmas and birthdays! Well they obviously weren't born expecting this, we taught them by giving them lots of stuff! And it wasn't only us! It seemed that there were always grandparents and friends giving our kids things, or money to buy more things! The amount of stuff in our house became a bit overwhelming, and no child even remembered all the toys they actually had!
When we made the decision to start scaling back on giving things at holidays, there was a temporary revolt (by the children, because they were coming down off their addiction to getting more stuff!), but then they seemed to understand that getting everything you think you want is really not healthy. We also had discussions with them about the fact that all of their toys cost money, and that we needed to be smart with our money. We saw little changes here and there, and now it is perfectly normal for a child to get only 2 quality gifts for a birthday, and our kids truly seem perfectly happy with that. Not only that, but I sometimes overhear my daughter telling one of her brothers that "mom pain X amount of dollars for that so be grateful!"
2. We are closer as a family!
Aside from the clutter that our addiction to stuff has caused, having more stuff really does not equal more happiness and it in general does not foster more family togetherness. Since family togetherness is a main goal of ours, we felt like going and doing things with our kids would build much better family ties than things ever could!  
3. Our Home is more simple and comfy!
I know that some people can really function well in an environment filled with toys and things all over, but I have never been that person. When my environment is cluttered with lots of things it really makes me anxious, and I feel the need to clean all the time. Having less stuff just makes home life so much simpler.
4. Our kids have gotten to travel more and will get to see more of the world!
Because of limiting the gifts that we have spent money on, our family has already had the chance to take more regular vacations that we've made great memories on! I think those family photos taken on vacation are so much better than most gifts! Eventually we think plan to take our kids on trips to see different cultures and countries!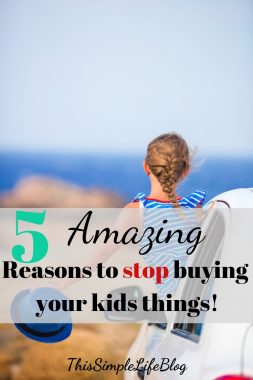 5. Our kids are learning the value of earning their own money!
Because we have started saying no more often to things, if our kids really want something they must buy it themselves. My daughter saved for about a year and bought a large item that she really wanted. After getting it, she realized that it wasn't better than having the money, and she returned it! I count this as a parenting win because she taught herself the value of money, and the fact that there is only so much of it- she taught herself to spend it wisely!
If your family is like mine, you are always looking for ways to raise your kids better, and bring your family closer together. Making the switch from focusing on gifts to focusing on giving experiences has taken our family time to a whole new level and I wouldn't ever want to go back!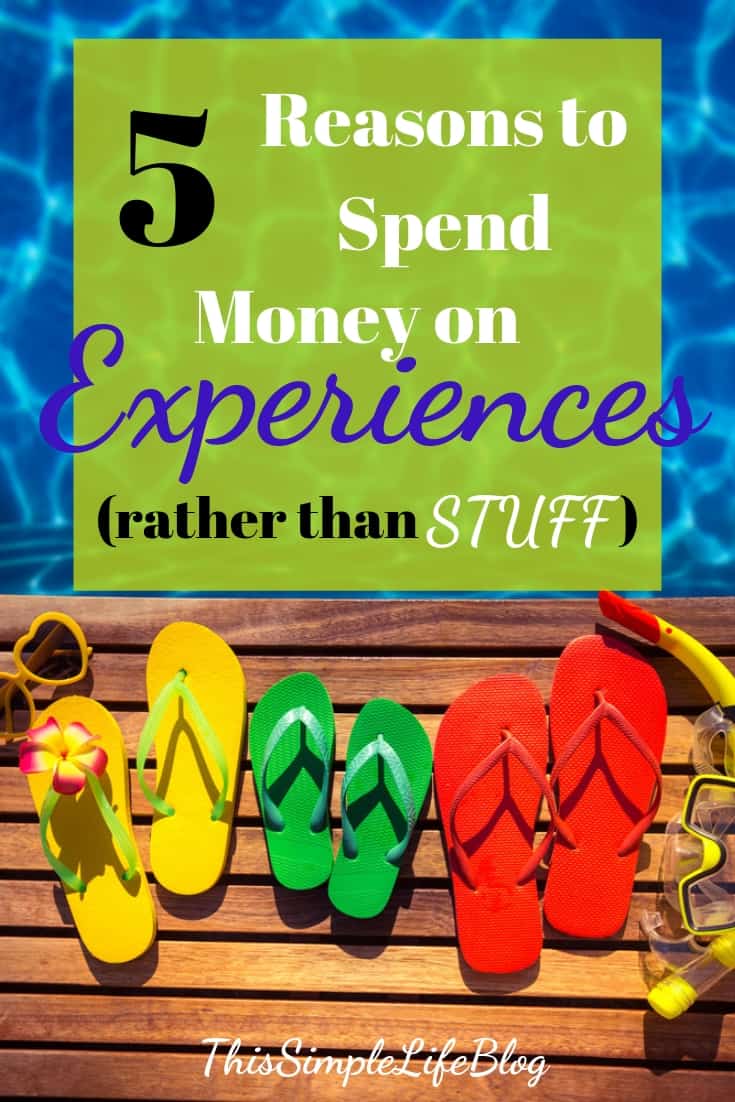 Please follow and share this amazing article!