*This post may contain affiliate links. If you make a purchase through a link, I may earn a small comission (at zero extra cost to you). You can read my policies and disclosures for more info.*
A few years ago, my husband and I found ourselves at a crossroad. The decision to have another baby or to hold steady at a mere 3 kids was weighing on our minds. I was more in favor of throwing caution to the wind and creating another human, and my husband already had the big snip-snip on his calendar!
But on the day before Christmas Eve, I won the debate, and he canceled his man-fixing appointment (for the next day- that's commitment!), and we decided to go for one more baby!
Since then, our lives have changed in ways we never could have imagined!
Here are 11 ways that our bonus baby changed our family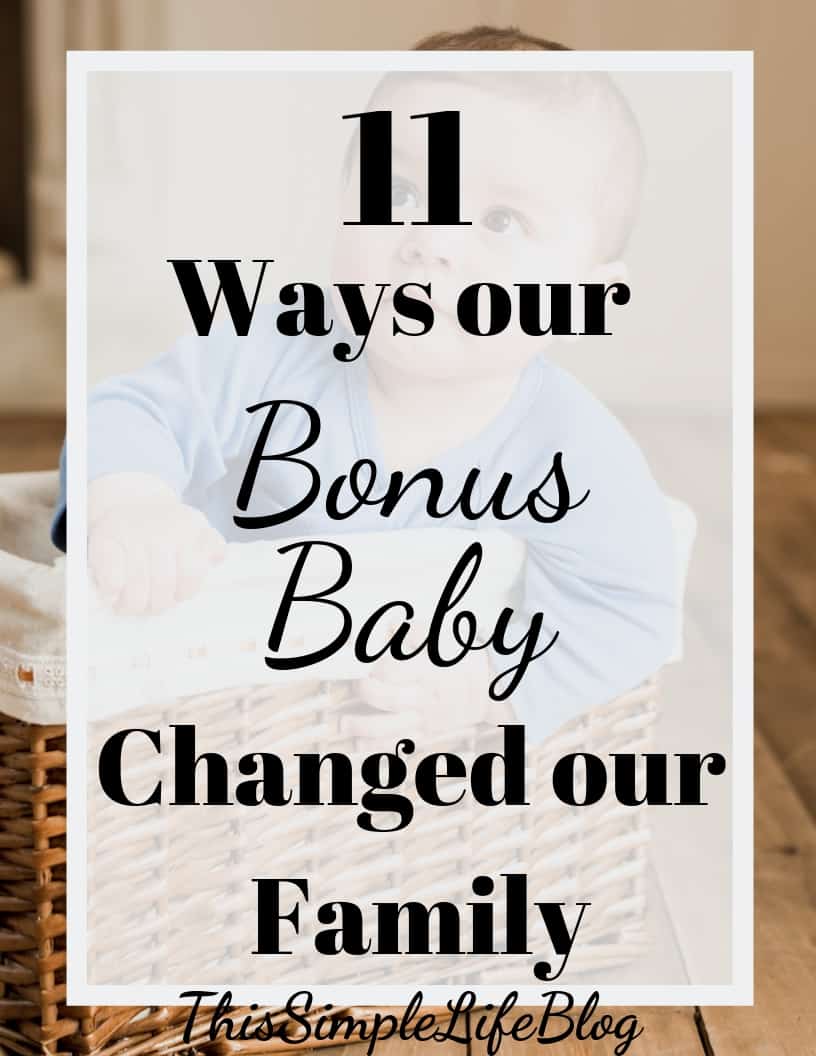 1.     We relaxed just a little more! Family life with 3 kids and 2 working parents can seem quite overwhelming at times. And it is! But something about having our little bonus bundle of baby joy has caused us to kick back a little more, especially when the chaos hits! I supposed we really didn't have a choice since more kids equals more chaos; we figured that we couldn't really control them anyway, so we may as well be OK with crazy!
2.     We love a little deeper. With a new baby in the house, all the feels come shooting up to the surface! We found that our bonus baby helped us to remember that our older kids were so tiny, not so long ago! We take those days for granted less now,  because we realized just how quickly they grow up!
3.     We became a more patient family. My husband and I became more patient with our older kids (probably because of all the aforementioned feels), and they showed amazing patience with our littlest! It's funny how you don't realize how impatient you've become until someone comes into your life and requires you to slow down.
4.     We are more OK with staying home than ever before! I don't know if it's just because we have less money, or because we have a house full of beautiful little kids to snuggle in with, but home is one of our favorite places to be these days!
5.     Our kids have learned to love more and be less selfish! This one is BIG. Before our bonus baby, our other kids were pretty close in age, and one of their favorite past times was to intentionally annoy one another with various jabs and general selfish behavior. But the addition of a new baby seemed to teach each of them just how to care for something small and innocent, and how to put themselves second to the needs of another. When I see one of them helping out their little brother, my heart swells. I really couldn't think of a better way to teach this kind of selflessness.
6.     My husband and I are closer. Our marriage has grown closer just having another baby to love on and hold. Once again, we get to watch the life of a baby grow and unfold, and it's beautiful.
7.     I feel older for sure! The difference between having a baby at 25 vs. 34 is a palpable one! I feel a little more stiff in the mornings and a little more demanding of my morning coffee before anyone is allowed to speak to me.
8.     It has kept us young! We play more, read more stories, and there is generally more silliness! In fact, a study of Mayan women shows that the more children mothers have, the slower they age. While I think there is probably a number at which you have gone too far, I definitely agree! We realize now that we'll have the years ahead to be old and grumpy, but the time for being silly with our kids is now!
9.     We are more motivated to take care of our health! My husband and I feel the silent pull of our ages, but having another baby to take care of also makes us that much more energetic and willing to take care of ourselves for the sake of our kids! There are plenty of benefits to having kids at a little older age, and motivation for eating better and moving more comes a little easier when you realize there is another little one depending on you!
10.  We are more aware of how much time we spend on our electronics! The older our kids get, the more willing I am to let them have more TV and video game time. But with a new little one, we are a bit more conscious of how much we are letting the older kids have this privilege, because he gets exposed to it just as much as they do!
11.  I understand more now how to care for myself as a mom. One more child means more work! I will never again feel bad for sneaking downstairs in the mornings, making sure to step in the exact right places so as not to make the floor erupt with the dreaded CRREEEEEEAAAK as I tiptoe past my kid's bedrooms! I understand more and more that this is not selfish or mean to take this time just for me, it's literally necessary!
Of course, not every family needs a bonus baby to get all the benefits described above! However, if you've ever considered having just one more, keep in mind that you'll never know how it will all work out, until it just does. If you decide to go for it, all the pieces will fall into place,  and you'll never remember what it felt like before your bonus baby was a member of the family!
Please follow and share this amazing article!