*This post may contain affiliate links. If you make a purchase through a link, I may earn a small comission (at zero extra cost to you). You can read my policies and disclosures for more info.*
When I learned that I was having my first boy, I was really shocked. I had no idea what having a boy would be like!
I never imagined myself with a son, much less 3 sons now!
I really had no earthly idea what I was going to do with them!
I truly knew how to handle and connect with my daughter. That was easy. But a boy? Eeek!
Thankfully I've gotten a little more comfortable through the years with the concept of boys, and now I can't imagine my life without them!
Boys are so much fun, and really, so much less emotional drama than girls. I'll admit though, having boys didn't come as naturally to me as having girls.
I wanted to share some great and fun ways that I've learned to connect with my sons through the years, and form strong mommy- son bonds!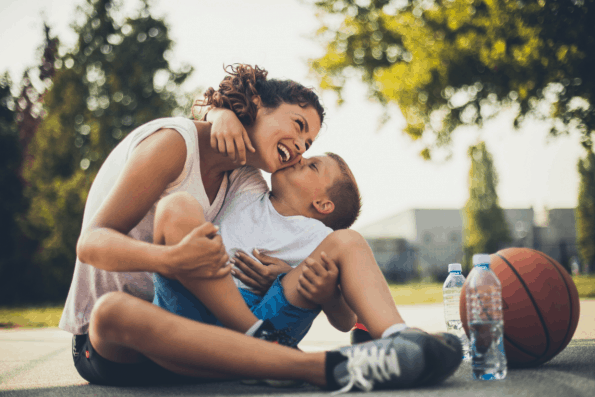 20 Powerful ways to Connect with Your Son
Below you'll find affiliate links. You can read my full disclosure here.
1. Listen to him
This means actively listening to what he has to say, and not interrupting or cutting him off. I will fully admit that this can be hard sometimes. Stories sometimes tend to go on and on.
For me, this looks like me stopping what I am doing, setting aside whatever task I am working on, and looking at him while he talks. Otherwise, I tend to be only half listening and he can tell.
2. Sit and do nothing with him
This goes along with the listening. The goal is to stop what you are doing for a few minutes at least, and just hang with him.
This can be done before bed, or over the breakfast table, whatever and whenever is convenient for you both. Just take some time out and let the conversation flow where ever it naturally goes. If you son is like mine, he will tell you all about his roblox world, or what he is building on Minecraft! While I have been known to roll my eyes at yet another gaming conversation, I've realized that if this is what's important to him, then I need to be paying attention!
Sometimes, he may not want to talk. That's OK too! The point is, don't have an agenda all the time.
3. Snuggle with him
I've learned that often my sons will pretend to be grossed out by hugging and physical touch. But at the end of the day, they love to snuggle, and let me rub their backs as we pray and get ready for bed.
Snuggle up on the couch and read a book together or just give him a quick hug as he's passing through.
4. Spend Time doing what he wants to do
This could be anything that he is into right now. Make an effort to learn about what he is into and that will go a long way in his book.
Here are some more powerful, and specific ideas to help you connect with your son…
5. Plan a small date with only him
6. Bond over making dinner together
7. Play a game with him
8. Wrestle with him
9. Explore the outdoors with him
10. Take him to an amusement park
11. Plan a picnic with him
12. Read a book with him
13. Day dream with him about his perfect day
14. Have hot chocolate with him
15. Take him on a trip
16. Do a YouTube challenge with him
17. Play a video game with him
18. Plan a prank on another family member with him
19. Learn with him about something that he enjoys
20. Watch a movie with him
---
Get more ideas for mother-son activities…100+ Awesome FREE and CHEAP Things For Moms and Sons to Do Together.
---
The best moms are not perfect, and they do not have perfect juggling skills. The best moms understand that connection, and regular re-connection takes intentional work. It's nice when it comes easy, but don't be discouraged if it does not. After all, the best things in life come to those who work for it!
Here are a few other fantastic reads for boys and their moms!
Click on each photo to see more.
Please follow and share this amazing article!