*This post may contain affiliate links. If you make a purchase through a link, I may earn a small comission (at zero extra cost to you). You can read my policies and disclosures for more info.*
When you've been married for a looooong time, like me, you may tend to get a bit lazy about your marriage and your husband ends up last on your to-do list (Ha! No pun intended!).
After almost 18 years of being with each other, 15 years of marriage, and 4 kids later, my husband and I are pretty much on auto-pilot.
We know each other's moods, we know each other's morning breath, we know what is going to irritate the other even before it happens. It's wonderful.
But when we are not on auto-pilot, our marriage airplane tends to hit turbulance and take an abrupt nosedive, flinging toward the ground with abandon waking both of us up pretty quickly!
That is the point where one or both of us grabs the wheel and remembers that you can't run a marriage on auto-pilot (at least not all the time).
There are always going to be unexpected bumps in the road (or sky- sticking with the same analogy), and if you aren't paying attention to your marriage you could crash it!
You've got to watch for the signs that things are going south and fix the problem before it's too late.
But why should you be constantly and INTENTIONALLY putting your husband first when you have kids, and jobs, and other responsibilities that are often competing for first place?
Related: Learn How to Slow Down and see the bigger picture
Here's why I think that it's so important to put your husband first!
Your husband is your partner and your kids are your peons!
Kidding, not kidding.
You started this family with your husband, and you rely on him to hold up and sustain 50% of your family- he is essential! Give him the seniority that he deserves! Don't treat him like an afterthought or an annoyance, he is literally half of the reason you have that beautiful family!
Great related reading and watching…
The Love Dare- by Stephen Kendrick
FireProof- The Movie
Your husband brings you things that you ask for!
Do your kids do that? Ok maybe they do from time to time, but if your kids are like mine, they usually get the wrong things, or don't see the requested thing in the middle of the room when there is nothing else in the room!
I know there are plenty of jokes to be made about how stupid men are and how they can't really get anything done the way a woman would do it (the right way- ahem), but truly, your husband is smart and awesome and I can't speak for your husband, but mine would (and has) gone out at 1 am to get me ice cream before, from the next town over.
Which brings me to my next point…
Your husband…he loves you a lot, and probably deeper than your kids might ever.
Kids love their parents, of course. But they are selfish, and when they grow up they will likely leave you in the dust, crying and looking at old baby photos (sniff sniff).
A good husband will still be there long after the kids are gone; he will still be by your side and won't care that you repeat yourself and don't hear well (probably from all the kid noise you had to endure from the kids who have now left you in the dust).
Check out ways to love your husband better by Alisa over at Flourishing today
Great related reading…
You Are the Best Wife: A True Love Story
You don't want to teach your kids that they are at the top of the totem pole!
There are plenty of human beings out there on this planet who think that they are the most important- but they really are not. Don't be the parent who raises a kid to think that it's all about them and that their needs always come first.
Be the parent who raises a smart, caring and humble kid who knows that he will generally not be first, and he is totally OK with that!
On the same note, teach your kids to care by putting your husband first, and showing genuine concern for his needs. Your kids watch you, they'll learn that this is how you care for someone and put them first.
Great related reading…
To Raise Happy Kids, Put Your Marriage First
You'll need your husband to kill the bugs, and deal with the bats!
The bugs and the bats- yes- these things require dealing with, and by a trained expert. I can't smash a giant spider and feel/hear the crunch- I just can't. But my husband can!
About the bats?
Well lets just say there was that one time a bat ended up sickly and flopping on our floor and I was forced to call my husband screaming wilst he was in the Taco Bell line and demand that he come home and deal with the vermin that I touched with my foot thinking it was a stuffed toy left in the hallway (it was dark!)
There was lots of laughing about that one, probably will be for years to come!
I don't like to imagine what I would have done had my husband not been there to extract the bat from the house- I don't like to think about it.
Your career will end someday, and when it does, you'll want to enjoy retirement with someone!
Even if you don't have kids, your job can be just as demanding. Often we find a lot of pride in our careers, but don't forget that relationships trumps career in the big picture of life.
When your job is done needing you, your husband will still be there. Take care of that relationship and never work so much that you marriage is an afterthought.
Put your husband first, ladies. A marriage on auto-pilot is one that is asking to crash. Take the wheel, and be purposeful about your marriage and put your husband first as much as you can.
Other great related reading on husbands and dads…
The Proper Care and Feeding of Husbands- Dr. Laura Schlessinger
Babyproofing Your marriage- Stacie Cockrell, Cathy O'Neill, and Julia Stone
Love and Respect- Dr. Emmerson Eggerichs
What ways do you put your husband first? Do you disagree and think your kids should always come first? Let me hear it!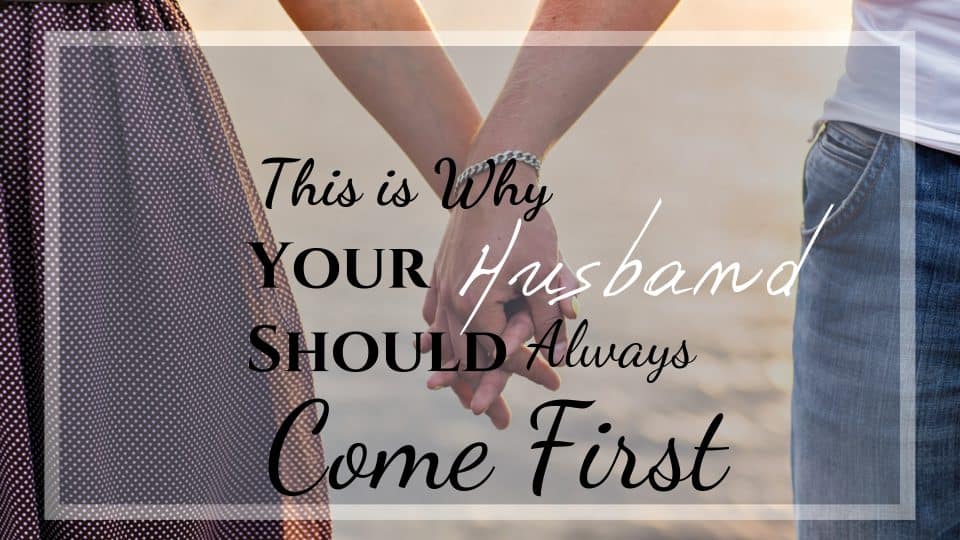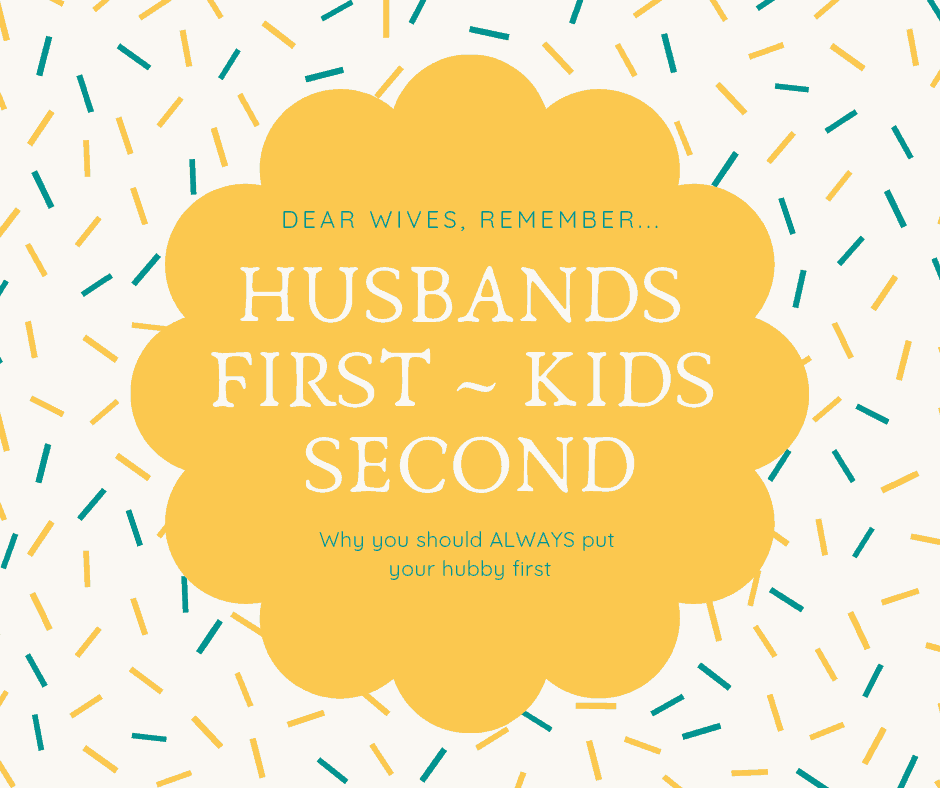 Please follow and share this amazing article!